July's Cake Slice Baker's options for our challenge include this Lemon Buttermilk Sheet Cake from the wonderful cake cookbook The Perfect Cake by America's Test Kitchen. I'm loving this book more and more every month!
At first I thought, oh gee another lemon cake, but after making this I've decided this is my favorite lemon cake ever. Really. Ever.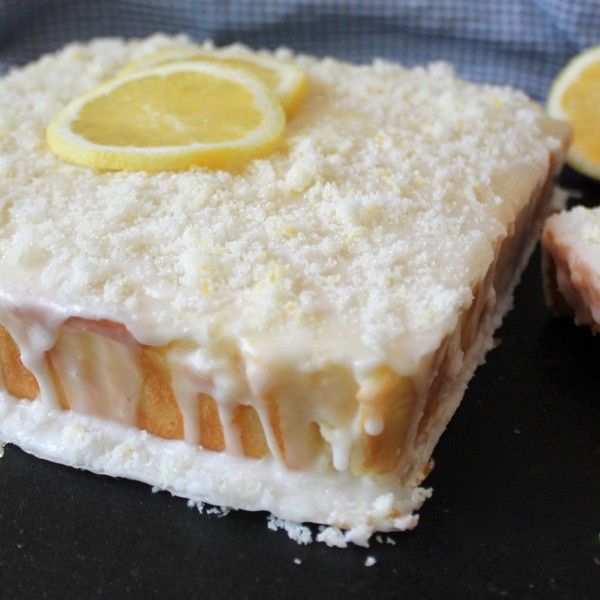 The instructions from The Perfect Cake are excellent each step of the way. I love the way the sugar and lemon zest are mixed together first of all, bringing out the lemon aroma and flavor to the extreme.
But wait - there's more lemon! Fresh lemon juice and more zest (fresh only, please - no green-bottle lemon juice) are mixed in along with buttermilk, eggs (3 whole, plus 1 yolk), and butter. They recommend the eggs, buttermilk, and butter be at room temperature as it really helps the mixture come together and results in a more creamy batter.
Not enough lemon? Let's top it off with lemon zest-sugar mixture sprinkled across the top. The result is a light, spongy lemon cake finished off with a nice lemon-buttermilk glaze and a crunchy sugar topping. Heaven for lemon lovers!
A change I made to the recipe is that I made my own buttermilk (one cup of 2% milk and one teaspoon vinegar, stir and let sit while other ingredients come to room temperature). It worked great as I don't usually have buttermilk in the fridge.
I also made an 8x8" cake and 3 mini-loaves instead of a 13x9" cake so I could give some of the cake to friends more easily. Besides that, this Lemon Buttermilk Sheet Cake works perfectly by ATK's instructions.
If you love lemon.....here you go!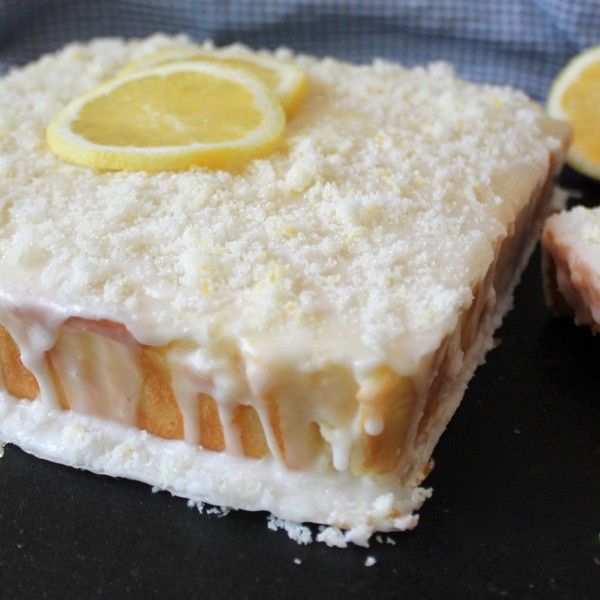 Lemon Buttermilk Sheet Cake
Outstanding lemony cake with a lightly sugar-crunch lemony glaze.
Ingredients
For the Cake:
2 ½ C (10 oz) cake flour
1 teaspoon baking powder
½ teaspoon baking soda
½ teaspoon salt
¾ C buttermilk, room temperature
3 tablespoon grated lemon zest, plus ¼ C juice (about 3 lemons)
1 teaspoon vanilla extract
1 ¾ C (12 ¼ oz) granulated sugar
12 tablespoon butter, cut into 12 pieces and softened
3 large eggs plus 1 large yolk, room temperature
For the Glaze:
3 C (12 oz) powdered sugar
3 tablespoon lemon juice
2 tablespoon buttermilk
Instructions
Preheat the oven to 325°. Spray and flour a 13x9" baking pan.
Whisk together the flour, baking powder, baking soda, and salt. In another bowl, combine the buttermilk, lemon juice, and vanilla.
In a stand mixer bowl, beat together the sugar and lemon zest on medium speed until moist, fragrant, and fully combined, about 1 minute. Scoop out ¼ cup of the sugar/lemon mixture and place in a small bowl; cover and set aside.
Add the butter to the sugar mixture in the stand mixer bowl and beat until pale and fluffy, about 2 minutes. Add the eggs and egg yolk, one at a time, and beat until combined. Reduce speed to low and add the flour mixture in 3 additions, alternating with the buttermilk mixture in 2 additions, and mix until smooth, about 30 seconds (don't over mix). Remove the bowl from the stand and stir by hand to make sure there's no flour on the bottom of the bowl.
Pour the batter into the prepared pan and smooth the top with the back of a spoon. Bake until the cake is golden brown and a toothpick inserted in the center comes out with just a few crumbs clinging to it, 25 to 30 minutes. Rotate the pan halfway through baking. Let the cake cool in the pan on a wire rack for 10 minutes.
For the glaze, whisk powdered sugar, lemon juice, and buttermilk in a bowl until smooth. Spread the glaze over the still-warm cake and sprinkle evenly with the reserved lemon sugar mixture. Let cool completely, at least 2 hours.
Notes
I made my own buttermilk (stir together 1 cup milk, 1 teaspoon vinegar and let sit for at least 15 minutes). It's a nice trick if you don't have buttermilk in the fridge.
It's important that ingredients are at room temperature, so don't skip that. Sometimes ingredients will look (and be) curdled if ingredients are too cold.
Nutrition Information:
Yield:

12
Serving Size:

1 square
Amount Per Serving:
Calories:

238
Total Fat:

14g
Saturated Fat:

8g
Trans Fat:

0g
Unsaturated Fat:

5g
Cholesterol:

93mg
Sodium:

338mg
Carbohydrates:

24g
Fiber:

1g
Sugar:

3g
Protein:

5g