Updated: January, 2020
Easy Crock-Pot Chicken Parmesan will be your new go-to weekday dinner recipe! Basic ingredients with a delicious result.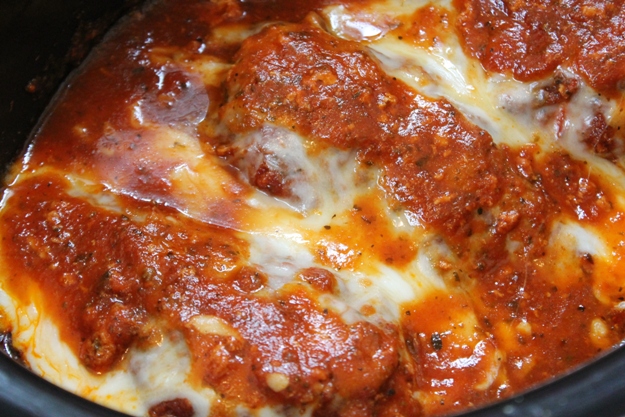 It's hot. You're going to hear that a million times this summer, especially here in Texas where it's been brushing 100 degrees since mid-May. I was born and raised in Texas and will never get used to the summer heat, but still love living here.
If you don't want to heat up the kitchen, the go-to, of course, is the trusty Crock-Pot.
This Crock-Pot Chicken Parmesan is from a cookbook (The Family Table Slow Cooker by Dominique DeVito) that's totally devoted to slow cooking. I like this recipe because instead of breading the chicken, it calls for herbs and cheese for a coating.
I have two crock-pots – one from the late seventies and a nice big new one from a couple of years ago. Each has its functions – the new one is better for cooking sizeable meat cuts. This Crock-Pot Chicken Parmesan is best suited for the big new one with the lift out dish so that the chicken breasts aren't squished on top of each other.
I went fairly closely by the recipe, except that it calls for 1 1/2 cups of marinara and I use 3 cups. I want enough extra sauce to cover a side of pasta and there wouldn't have been enough with the original amount. Next time I'll add even a half-cup more.
I also use less mozzarella because it would've been smothered with it and not in a good way. You can take a look and revise accordingly to your tastes.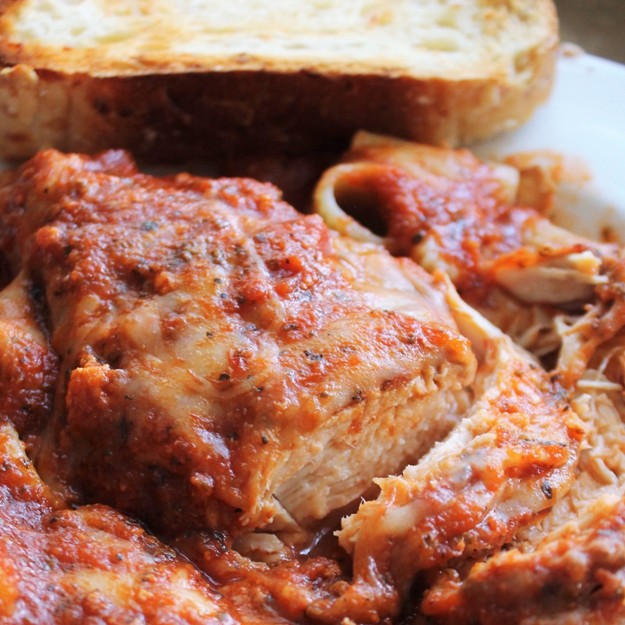 The chicken cooks in a lot less time than called for. It was set on low for 4 hours and was done (recipe calls for 6 hours). The chicken shreds nicely. We ended up with a little more of a Italian shredded chicken ragu, but the flavor combinations are very good and the mozzarella is gooey and plentiful.
The Family Table Slow Cooker has beautiful photos and inventive recipes. I'll probably try a few more, but I'm skeptical that some of them will work in a slow cooker (Escargot "Magnifique"?). If you try recipes from the book, including this Parmesan, be sure and watch the cook times.
Update: The leftovers are delicious! Shredded all the chicken, added some more marinara and mixed it all with pasta. People at work are jealous.
Crock-Pot Chicken Parmesan
Cook Time:
3 hours
30 minutes
Total Time:
3 hours
45 minutes
An easy, no-fuss way to make Chicken Parmesan.  Adapted from The Family Table Slow Cooker. 
Ingredients
4 boneless, skinless chicken breasts
2 tsp garlic powder
1/2 tsp salt
1/2 tsp pepper
1 tbsp Italian seasoning mix
1/2 C Parmesan cheese, grated
3 C prepared marinara sauce (your favorite)
6 oz mozzarella cheese, shredded
Instructions
Lay the chicken breasts in the slow cooker. Mix the garlic powder, salt, pepper, and Italian seasoning mix together in a small bowl. Sprinkle the mixture evenly over the chicken breasts, patting lightly so it will stick to the chicken.
Sprinkle the Parmesan cheese evenly over the chicken, then pour the marinara sauce on top, covering the tops and sides of the chicken.
Cover and cook on low, checking after 3 1/2 hours. (Or cook on high, checking after 1 1/2 hrs.)
Uncover and sprinkle the mozzarella evenly over the chicken. Cover and cook on low for about 15 more minutes, until cheese is completely melted.
Notes
Tips and Stuff:
Changes I made to the original recipe:  original called for 1 tsp. of salt - I lowered it to 1/2 tsp because the marinara is salty enough.
I increased the marinara amount from 1 1/2 cups to 3 cups so we would have sauce for the pasta on the side.  Highly recommend this; otherwise, you won't have much sauce.
Lowered the mozzarella to 6 oz. from 8 oz.  It was more than plenty.
Lowered "low" cook time to 4 hours from the original 6.  It definitely would have been dry and overcooked at 6 hours.
Nutrition Information:
Yield:

4
Serving Size:

1
Amount Per Serving:
Calories:

482
Total Fat:

20g
Saturated Fat:

9g
Trans Fat:

0g
Unsaturated Fat:

8g
Cholesterol:

149mg
Sodium:

1716mg
Carbohydrates:

19g
Fiber:

4g
Sugar:

10g
Protein:

53g
Nutrition Values are Approximate