Updated: April 2023
It's Spring! That means wonderful Spring fruits and vegetables are here in abundance.
Tish Boyle's The Cake Book is The Cake Slice Baker's extra bake book this month and I found this Sour Cream-Blueberry Crumb Cake just in time to use the first blueberries of the season.
The end result is a fluffy, very tasty coffee cake with a great butter crumb topping.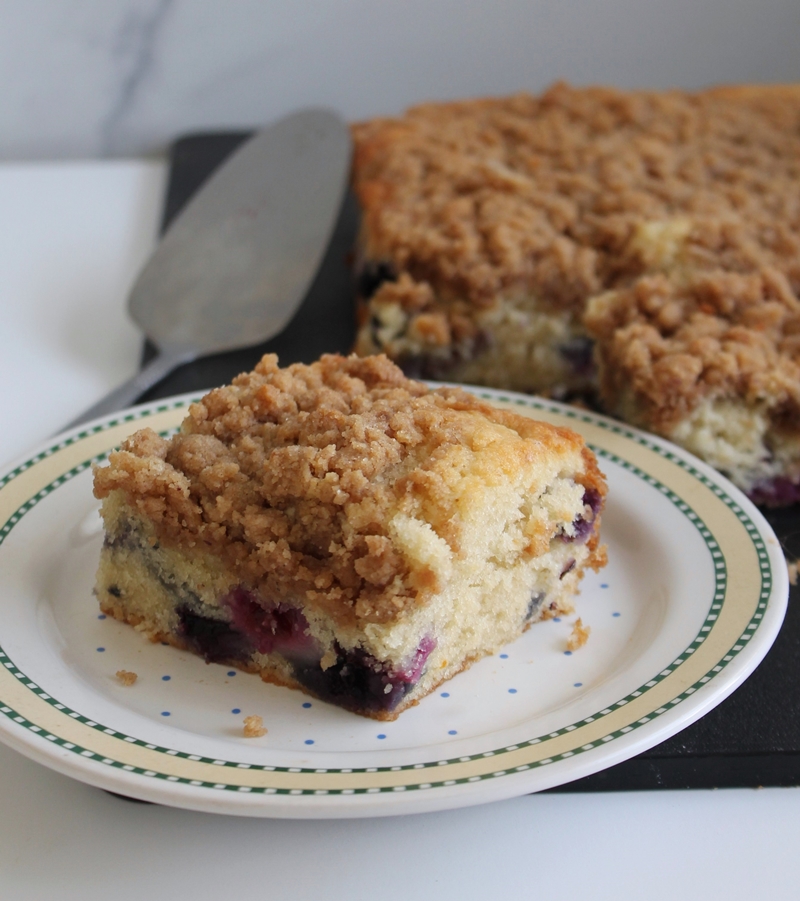 I made a few adaptations to the recipe, mainly because I wanted to use all my blueberries (about 1 ¼ cups of fairly small berries instead of the 1 cup called for). I also added a little buttermilk because it always makes a cake better.
Adding ½ teaspoon of almond extract just sounded right (and it was). Originally I added another tablespoon of sugar to make it a bit sweeter, but found that 1 cup is plenty. I lowered the butter for the cake part from 10 tablespoons to 8 tablespoons.
It's not a very sweet cake, but that's OK. Add a cup of coffee and make it your breakfast, and it's perfect.
This is a great crumb cake. Don't overmix it or it will end up dense. Fold in those blueberries just until they're distributed, then leave the batter alone.
I ended up with a fluffy textured cake scattered with just the right number of fresh blueberries. The crumb topping was wonderful and added the needed sweetness and crunch.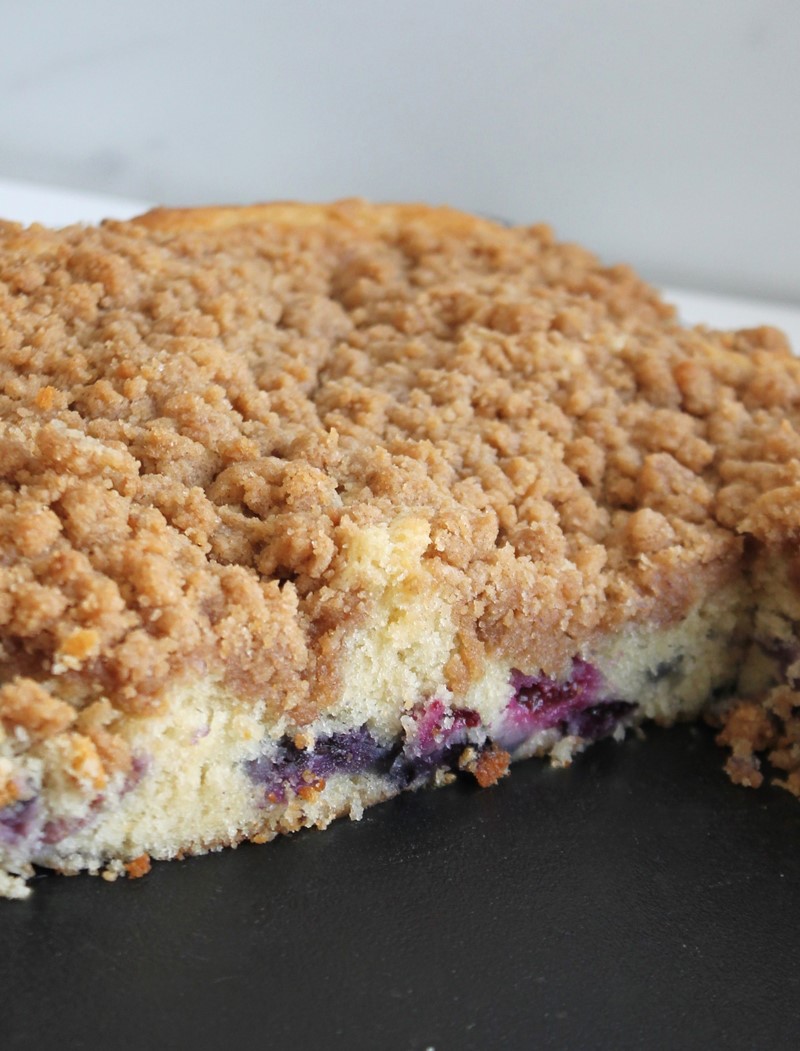 If you want a really good crumb cake and something to do with those Spring blueberries, try this Sour Cream-Blueberry Crumb Cake. It would be a nice Mother's Day gift, too!
It would be also be good with chopped fresh cherries (coming soon in a grocery store near you...) or raspberries. Be creative - add chopped pecans to the topping (wow, wild and crazy). You'll enjoy this cake.
If you're looking for another amazing cake, try my Lemon Pie Coffee Cake - it's luscious and incredibly delicious.
Sour Cream-Blueberry Crumb Cake
Total Time:
1 hour
5 minutes
Fluffy, slightly sweet cake with a crunchy cinnamon/brown sugar/butter crumb topping stuffed with fresh blueberries.
Ingredients
Crumb Topping:
1 C all-purpose flour
¼ C granulated sugar
⅓ C firmly packed brown sugar
1 teaspoon ground cinnamon
⅛ teaspoon salt
7 tablespoon melted butter
The Cake:
1 ½ C all-purpose flour
1 ¼ teaspoon baking powder
¼ teaspoon baking soda
¼ teaspoon salt
1 to 1 ¼ C fresh blueberries
¾ C sour cream
¼ C buttermilk
1 ½ teaspoon vanilla extract
½ teaspoon almond extract
8 tablespoon butter, softened
1 C granulated sugar
2 large eggs, room temperature
Instructions
For the topping: In a medium bowl, stir together the flour, sugars, cinnamon, and salt. Add the melted butter and stir until the butter is completely absorbed and the dry ingredients are moistened. Set aside.
For the cake: Preheat the oven to 350°. Spray the bottom and sides of a 9" square baking pan. Line with a 12-13" piece of parchment paper (or aluminum foil), letting it lap over two sides 1 to 2" so you can lift it out after cooled. Spray the parchment paper or foil with cooking spray.
In a medium bowl, whisk together the flour, baking powder, baking soda, and salt until well blended. Set aside.
Put the washed and dried blueberries into a small bowl and spoon one tablespoon of the flour mixture over them. Toss to coat (this will prevent blueberries from sinking to the bottom of the cake).
Whisk the sour cream, buttermilk, and vanilla and almond extracts together in a bowl.
In a stand mixer, beat the softened butter and sugar granulated together until light and fluffy (about 3-4 minutes). Add the eggs, one at a time, beating well after each egg, scraping down the sides of the bowl as needed.
Turn the mixer to low and add one-third of the flour mixture, then one-half of the sour cream mixture. Repeat with another third of flour and the rest of the sour cream mixture, then end with the last third of the flour. Mix until just blended, then fold in the blueberries. Pour the batter into the prepared pan and top evenly with the crumb mixture.
Bake the cake until a toothpick inserted into the center comes out almost clean, about 43 to 45 minutes for a 9-inch pan. Cool in the pan on a rack until completely cooled, then lift out the cake onto a cake plate or stand.
Notes
Tips and Stuff:
This recipe takes lots o' bowls, so make sure you have enough counter space!
Don't over mix the batter to keep the cake tender.
Start checking the baking cake at 40 minutes. 
Let the cake completely cool or it will bend and break while you're transferring to a cake plate. After you lift out the cake, put the side of a spatula on one side of the cake and pull the paper or foil out (you may need to scoot the spatula around on the undersides of the cake to loosen before you pull out the paper.)
Nutrition Information:
Yield:

12
Serving Size:

1 serving
Amount Per Serving:
Calories:

312
Total Fat:

18g
Saturated Fat:

11g
Trans Fat:

1g
Unsaturated Fat:

6g
Cholesterol:

77mg
Sodium:

291mg
Carbohydrates:

33g
Fiber:

1g
Sugar:

12g
Protein:

5g
Nutrition Values are Approximate