Roasted Brussels sprouts are hot, hot, hot right now and I'm glad since I'm a long time lover of the cute little cabbages. Roasted Brussels Sprouts and Cauliflower with Bacon is a delicious way to get in your vegetables for the day!
I wanted to do a vegetable lunch today, so decided on roasting Brussels sprouts and cauliflower, adding a little bacon and finishing it off with a nice flavorful dressing.
Oh, and I roasted a couple of quartered Yukon gold potatoes that aren't included in this particular recipe.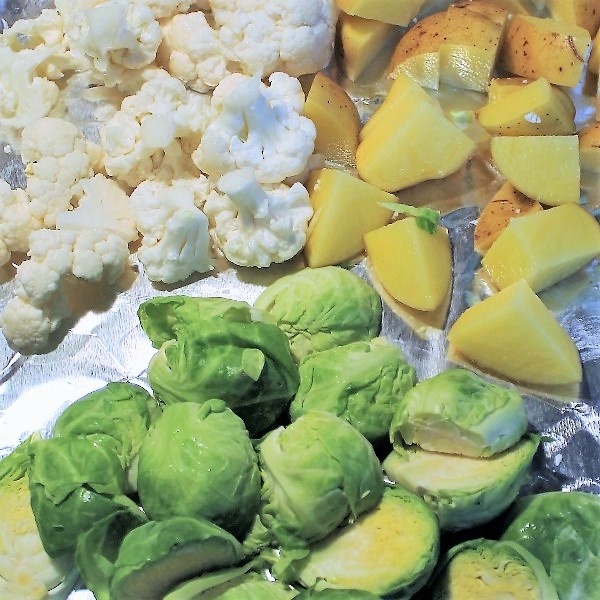 It's easy enough to throw this together. Just half the sprouts, break up the cauliflower, sprinkle with salt and pepper and toss with a little olive oil.
Oh, and I forgot to tell you about the bacon crumbles and balsamic vinegar dressing. That really makes this dish into a complete and delicious meal.
You feel like you're eating healthy except for that pesky bacon grease added to the dressing. You can lighten it up and just use olive oil if you want. Coward.
Roasted Brussels Sprouts and Cauliflower with Bacon Dressing is my idea of a filling and tasty side dish. Kind of easy, too.
Have these for a Thanksgiving vegetable side - even people who say they hate Brussels sprouts like these!
Roasted Brussels Sprouts and Cauliflower with Bacon Dressing
Outstanding served as a main or a side dish.  Finished with bacon bits and a bacon balsamic mustard dressing.
Ingredients
1 lb. fresh Brussels sprouts
1 small head of cauliflower
Olive Oil
Freshly Ground Pepper and Salt
4 thick cut bacon strips
1 tablespoon balsamic vinegar
1 heaping teaspoon Dijon mustard
Instructions
Preheat the oven to 375°. Line a baking sheet with aluminum foil and set aside.
Wash and pat dry the vegetables. Cut the Brussels sprouts in half and trim the stem. Break the cauliflower into bite-sized pieces. Place vegetables in a large bowl and toss with 2 tablespoons of olive oil, ½ teaspoon ground pepper and 1 teaspoon salt.
Spread the vegetables evenly on the prepared pan, cut side down on the sprouts, and cook for 20-25 minutes, tossing lightly and turning the sprouts after 15 minutes.
While the vegetables are roasting, fry the bacon and chop it into small pieces. Save 3 tablespoons of the bacon drippings and put it into a small bowl. Add balsamic vinegar, Dijon mustard, and add a pinch of salt and pepper. Whisk until combined and set aside.
When the vegetables are done, pour them into a large bowl. Right before serving, toss with the dressing (to taste) and sprinkle with the chopped bacon. Serve immediately.
Notes
Tips and Stuff:
The sprouts may get done before the cauliflower.  Keep your eye on them and taste test them for firmness.  Leave the cauliflower in another five minutes if needed.  You want them done, but not mushy.
If you'd rather, use olive oil instead of the bacon drippings.  It will still make a very nice dressing.
Nutrition Information:
Yield:

4
Serving Size:

1 serving
Amount Per Serving:
Calories:

148
Total Fat:

9g
Saturated Fat:

2g
Trans Fat:

0g
Unsaturated Fat:

6g
Cholesterol:

12mg
Sodium:

416mg
Carbohydrates:

12g
Fiber:

5g
Sugar:

4g
Protein:

8g
Nutrition Values are Approximate