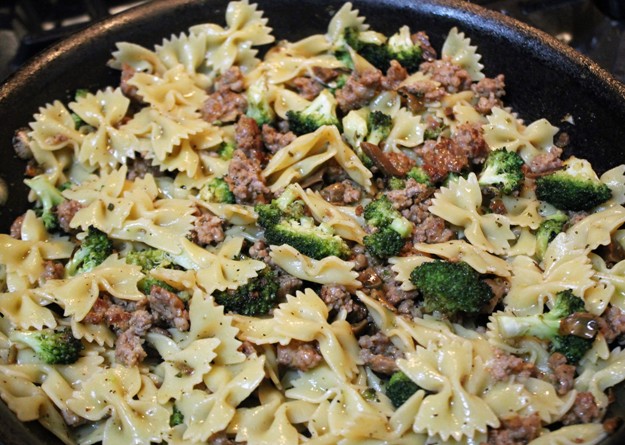 One of my favorite things to do is browse Amazon for new cookbooks that come out. September through December is prime time for new cookbooks and one that I've been looking at is Alex Guarnaschelli's The Home Cook: Recipes to Know by Heart. If you watch Food Network or the Cooking Channel, you'll recognize her from Iron Chef or Chopped, and as being a highly regarded chef.
Her new book has a bunch of recipes I want to try and this Farfalle with Sausage and Roasted Broccoli was first on the list. It has simple ingredients – sausage, pasta, broccoli – and is fairly easy to throw together after your ingredients are prepped.
Farfalle with Sausage and Roasted Broccoli is not haute cuisine, but it is simple and tasty, and perfect for a weeknight meal. I halved the recipe, but the only other change I made was adding some leftover porcini mushrooms to the sausage mixture. Next time I might throw some sun dried tomatoes and a touch of red pepper flakes just to spice it up a little.
I'm looking forward to trying some more of the recipes from The Home Cook!
Farfalle with Sausage and Roasted Broccoli
***1/2 Very tasty dish for a nice weeknight meal. Be sure and use good quality Italian sausages - it really makes a difference!
Ingredients
5

tbsp

extra-virgin olive oil

1

small

head of broccoli, cut into bite-size florets

Kosher salt

2

sweet Italian sausages, removed from casings

2

spicy Italian sausages, removed from casings

1

C

dry white wine

1

tsp

dried oregano

1

lb

dried farfalle pasta

1/4

C

freshly grated Parmigiano-Reggiano cheese
Instructions
Preheat the oven to 375°. Put a large pot with 6 quarts of water on the stove and bring to a boil while putting together the rest of the recipe.

Put the broccoli in a bowl and toss with 3 tablespoons of the olive oil. Season with salt. Arrange the florets in a single layer on a baking sheet and put it in the oven. Roast until the broccoli is browned on the edges and almost slightly crispy, about 15 minutes, stirring half way through the roasting. Remove from the oven and set aside.

To cook the sausage, heat a large skillet over medium heat and add 1 tablespoon of the olive oil. Add the sausage (casings removed) to the heated skillet, breaking them up into small pieces as you stir them. Cook, stirring them occasionally until the sausage browns, about 7-8 minutes. Add the white wine and oregano, then simmer over medium heat until the wine cooks down, about 5 minutes. Taste and season if needed. Turn off the heat.

While the sausage is cooking, add 1/2 cup of salt to the boiling water, then add the pasta. Stir so the pasta won't stick to the bottom of the pan and cook until al dente, 8-10 minutes. Save 1 cup of the pasta water, then drain the pasta in a colander.

Finish the dish by adding the broccoli and pasta to the sausage mixture in the skillet and sprinkle with half of the reserved pasta water. Drizzle the remaining 1 tablespoon of olive oil over the pasta, stir, and season with salt and pepper if needed. Sprinkle with the Parmigiano-Reggiano and add more pasta water to desired sauce consistency. Serve immediately.
Recipe Notes
Tips and Stuff:
I halved the recipe for us and it made almost 3 servings.  I also added porcini mushrooms.
Next time I will add red pepper flakes and maybe sun dried tomatoes to kick it up some.
Yes, you read correctly.  The original recipe says to add 1/2 C salt to the pasta water.  Make sure and carefully taste before you add additional seasonings to the dish, so that you don't add too much salt.  (Most of it goes down the sink with the pasta water.)
If you don't want to use wine, use chicken or vegetable broth.
It was great served with buttered garlic bread!