We have a wonderful friend, Bruce, who's a great fisherman and he's kind enough to share his catch with us on a regular basis.
When he goes to the Texas Gulf, he brings back delicious red fish or catfish. He recently trekked up to Alaska with some fellow enthusiasts to enjoy the salmon and halibut fishing.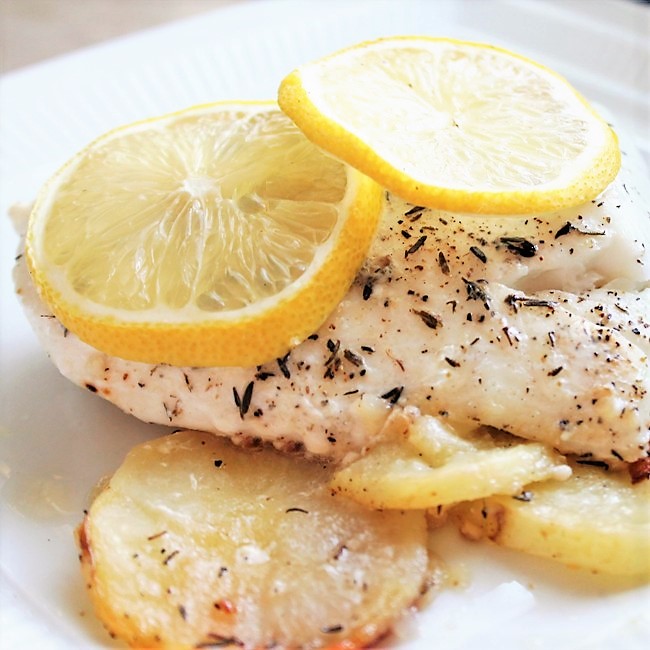 This week Bruce presented us with a beautiful, fresh piece of halibut. I made sure to find a recipe that would retain that halibut flavor - baking up lemony, buttery, and flaky.
This Lemon-Herb Halibut with Crispy Garlic Potatoes from "The Complete Cooking for Two" cookbook (one of my favorite cookbooks) has few ingredients, and maintains the integrity of the fish without overwhelming it.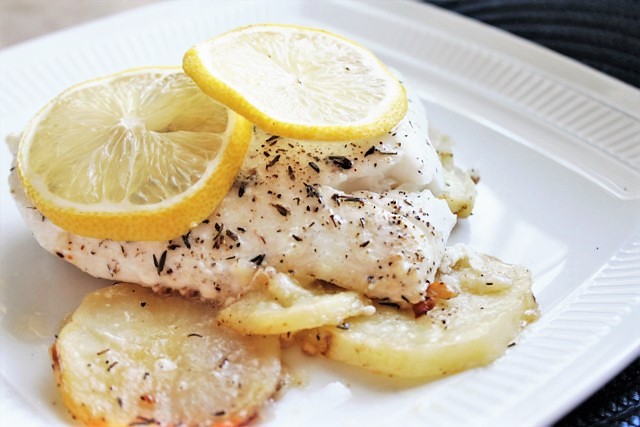 The plus to this recipe is the crispy garlic potatoes! They're roasted in the oven with bits of fresh garlic, then topped with the fish, lemon and butter and baked until the fish is flaky and delicious.
I love the fish, but those potatoes are really outstanding. Since they're so easy, I'll be making them again.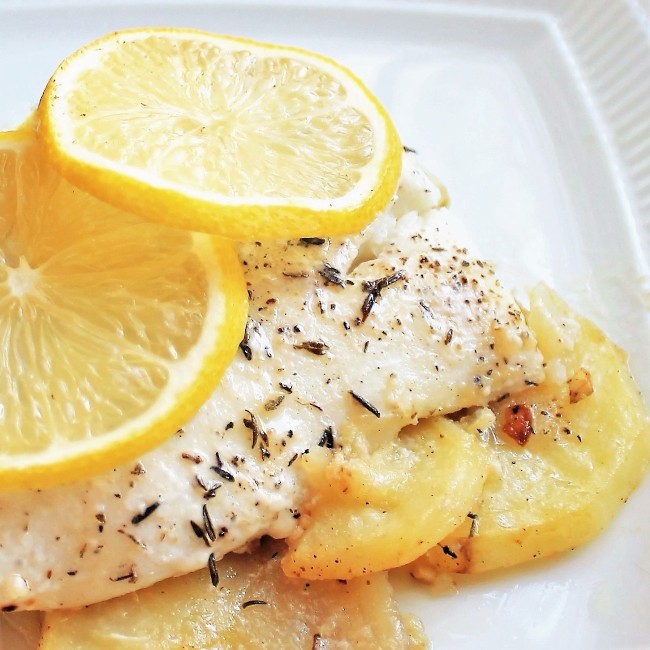 The halibut was straight out of Alaskan waters and so fresh.
I'm hoping we can find some great halibut down here in the future so we can make Lemon-Herb Halibut with Crispy Garlic Potatoes again! Soon.
Lemon-Herb Halibut with Crispy Garlic Potatoes
Flaky, buttery, lemony fish baked accompanied by wonderful crispy garlic potatoes.
Ingredients
1 ½ tablespoon olive oil
1 large russet potato, peeled and sliced ¼" thick
1 garlic clove, minced
salt and pepper
2 (4-6 oz) halibut or cod fillets, skinless (1 to 1 ½" thick)
1 tablespoon butter, cut into ¼" pieces
1 sprig fresh thyme (or ½ tsp. dried thyme)
½ lemon, sliced thinly
Instructions
Preheat the oven to 400°. Brush a baking dish with half of the olive oil and set aside.
Toss the sliced potatoes with the remaining oil, minced garlic, and season with salt and pepper. Line the dish with the potatoes shingle-style (overlapping a bit) and roast the potatoes until just tender, about 20-25 minutes, rotating halfway through roasting.
Pat the halibut dry with paper towels and season with salt and pepper. Carefully place 1 fillet, skinned side down on top of the potatoes. Top fillets with butter pieces, thyme, and lemon slices. Roast the fish and potatoes until fish flakes apart when gently prodded with a paring knife - about 10-15 minutes (don't overbake - the fish will continue baking a bit after you remove it from the oven).
Slide a spatula underneath the potatoes and fillets and gently transfer to individual plates. Serve immediately.
Notes
Tips and Stuff:
Cod or halibut are nice choices for this recipe. Any thick, flaky fish will be good.
Serve with a side of grapes or melon.
Nutrition Information:
Yield:

2
Serving Size:

1 serving
Amount Per Serving:
Calories:

389
Total Fat:

17g
Saturated Fat:

5g
Trans Fat:

0g
Unsaturated Fat:

11g
Cholesterol:

65mg
Sodium:

285mg
Carbohydrates:

35g
Fiber:

4g
Sugar:

2g
Protein:

25g
Nutrition Values are Approximate