Yay, it's Christmas cookie time! I look forward to this every year until about a week into baking, then I think "why am I doing this???"
But then the cookies and candies get sorted on the holiday platters and it's all worth the time and effort.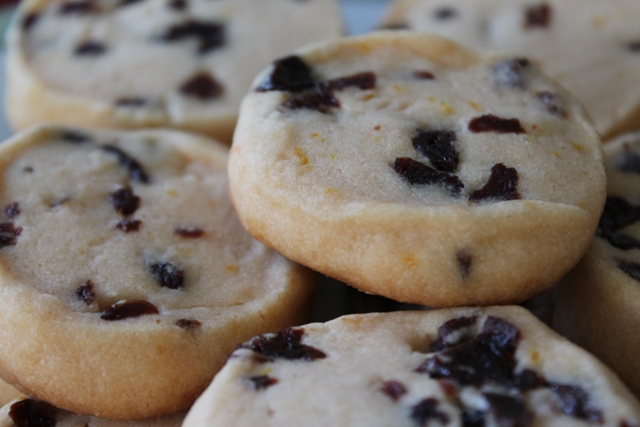 This little cookie is one of my favorites. It's a very tender shortbread, loaded with orange zest and dried cherries.
It's really very simple and so full of flavor. They're perfect for a Christmas party plate.

Often when people think of shortbread, they think of dry, sandy or crunchy cookies, but these are different. Just be sure and cook them for no longer than 10 minutes and take them out before you start seeing browning.
I took these Orange Shortbread with Cherries to a party this weekend and sadly didn't save any for us back at the house. Guess I'll have to make another batch and declare it's for quality control.
I like the photo below because of the vivid colors. The dried cherries are dark red, but I think you could use maraschino cherries and they would be fine (and brighter red). And don't you love the fact that the grass is tall and bright green and it's December?
Orange Shortbread with Cherries
Total Time:
3 hours
20 minutes
Tender shortbread with tangy dried cherries.  Love 'em.
Ingredients
1 C butter, softened
¾ C confectioners sugar
1 tablespoon grated orange peel
2 teaspoon vanilla extract
½ teaspoon almond extract
2 C all-purpose flour
¼ teaspoon baking powder
⅛ teaspoon salt
½ C chopped dried cherries
Instructions
Cream the butter and confectioners sugar in a large bowl until well-blended. Scrape down the sides as needed. Add the lime peel, vanilla extract and almond extract, and continue beating and scraping down the sides of the bowl.
In another bowl, mix the flour, baking powder and salt; gradually beat into the creamed mixture. Stir in the cherries.
Divide the dough in half and roll into 7-8 inch logs. Wrap in plastic wrap and refrigerate for 2 ½ - 4 hours until firm.
Preheat the oven to 350 degrees.
Unwrap and cut the dough crosswise into ¼ inch slices. Place 2 inches apart on ungreased baking sheets or parchment paper and bake for 9-10 minutes. They may not look done, but they are! Cool on a rack and store in a sealed container at room temperature.
Notes
Tips and Stuff:
You could use maraschino cherries (red and green would be very Christmasy) - just be sure and dry them very well after chopping so the  juice doesn't change the texture of the cookie.
After rolling into logs and refrigerating, I made sure and turned the log every 30 minutes so the roll would stay round and not flatten on one side. (Or another tip: cut an empty paper towel roll lengthwise and place the logs into the roll to keep the dough round!)
I stress again to not let them cook more than 10 minutes or they'll brown and be crunchy/dry instead of excellently tender.
Nutrition Information:
Yield:

42
Serving Size:

1 cookie
Amount Per Serving:
Calories:

76
Total Fat:

4g
Saturated Fat:

3g
Trans Fat:

0g
Unsaturated Fat:

1g
Cholesterol:

12mg
Sodium:

45mg
Carbohydrates:

8g
Fiber:

0g
Sugar:

3g
Protein:

1g
Nutrition Values are Approximate