Last week Bret came home with a four-pack of Costco Pork Sirloin Tip Roasts. They're so inexpensive - less than four dollars per 2 ½ lb. roast - and look so good.
I'd never heard of this particular cut of pork, but found a ton of recipes for them on Pinterest, including this Herb-Rubbed Sirloin Tip Pork Roast. Most of the Pinterest posts started out..."my husband brought home a four-pack of Costco Pork Sirloin Tip Roasts...."
This one is by Barefeet in the Kitchen and the photo looks wonderful. Also, I have all the ingredients and that always spurs me on to greatness!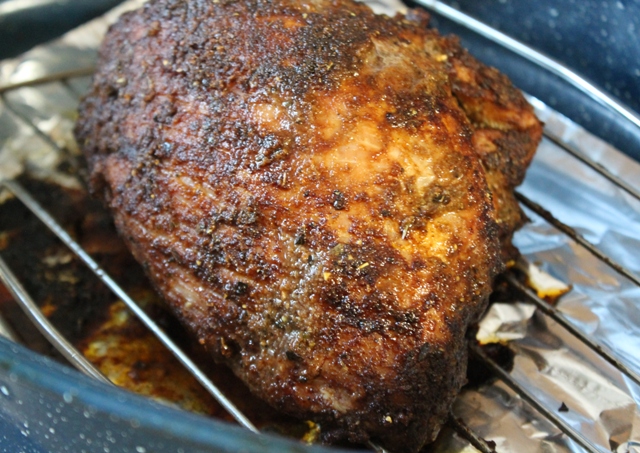 The combination of spices for this roast is perfect. The cayenne gives it a kick, so adjust that if you don't particularly like that much of a kick. Oregano adds such a nice layer of flavor. Definitely don't forget to use the oregano.
The only change I made to her wonderful recipe below is to lower the salt from 1 tablespoon of kosher salt to 1 teaspoon of table salt. I used a tablespoon of table salt (wrong, wrong, wrong) and it made for a very salty crust.
Kosher salt has bigger flakes, so wouldn't have made it as salty, but use whichever you have. Just be sure and cut it down to 1 teaspoon if you're using table salt.
I was searching for so long through the junk drawer for the meat thermometer (a must for any kitchen - a meat thermometer and a junk drawer) that the roast temperature ended up at 155 degrees - a little beyond the recommended temperature. Still, after resting, it's perfectly cooked, juicy and tender.
Bret diced up some of the leftovers in the morning and made a scrambled egg, cheese and pork wrap.
We've also had pork sandwiches and I plan on chopping up the remainder and adding it to a cream-based pasta dish. I love it when leftovers can be used like that!
I've had a lot of positive feedback from readers and I know you'll enjoy this Herb-Rubbed Sirloin Tip Pork Roast. It's amazing.
Herb-Rubbed Sirloin Tip Pork Roast
Cook Time:
1 hour
30 minutes
Inactive Time:
15 minutes
Total Time:
1 hour
55 minutes
Excellent rub for any kind of pork roast.  Makes a superb crust and it gets even better with leftovers!
Ingredients
1 ½ to 2 lb sirloin tip pork roast
1 ¼ tablespoon smoked paprika
½ teaspoon cayenne pepper
½ teaspoon freshly ground black pepper
1 teaspoon garlic powder
½ teaspoon onion powder
½ teaspoon dried oregano
½ teaspoon dried thyme
1 teaspoon table salt
2 tablespoon olive oil
Instructions
Preheat the oven to 350 degrees.
Put all of the ingredients except the pork into a small bowl and whisk until blended. Let it sit for a few minutes for it to meld together the spices and become a bit thicker. It will be a paste-like consistency.
Rinse the roast and pat it dry. Rub the spice mixture all over the roast, completely covering all sides, nooks and crannies (easiest to use your hands for this).
Line a roasting pan with aluminum foil and place the roast on a rack in the pan. Do not cover.
Roast for 1 to 1.5 hours and remove from the oven when the meat reaches an internal temperature of 145 to 150 degrees. Let rest for about 15 minutes before slicing and serving.
Notes
Tips and Stuff:
My roast was a little over 2 lb., so I cooked it the entire hour and a half.  It was perfect.
Be sure and use smoked paprika.  It adds a great flavor.
Nutrition Information:
Yield:

10 slices
Serving Size:

1 slice
Amount Per Serving:
Calories:

384
Total Fat:

24g
Saturated Fat:

9g
Trans Fat:

0g
Unsaturated Fat:

12g
Cholesterol:

133mg
Sodium:

316mg
Carbohydrates:

1g
Fiber:

0g
Sugar:

0g
Protein:

39g
Nutrition Values are Approximate