This is one of my Fall favorites - Crockpot Chicken with Black Beans and Corn, spiced up with salsa and a little chili powder. It's so very easy to put together and leave cooking while you do your running around.
Also, you can use the leftovers (which get better each day) for different dishes. Here we made creamy Yukon Gold mashed potatoes with the chicken and sauce poured over the top. So, so good!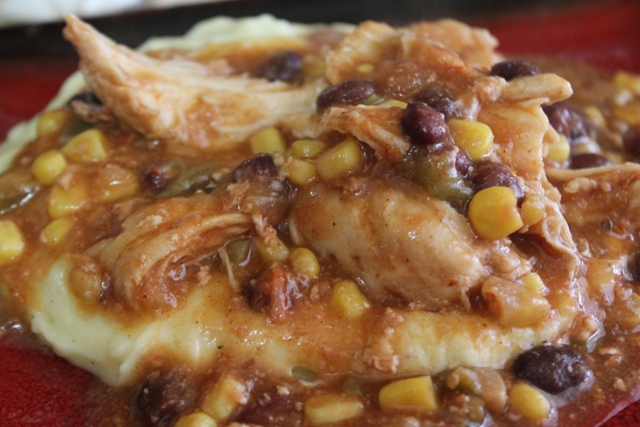 You throw frozen (yes, frozen) chicken breasts into the crockpot, along with a can of drained black beans and drained corn, then top with your favorite salsa and a teaspoon or so of chili powder.
Leave it on high for 3 ½ to 4 hours, depending on your crockpot, thicken the sauce a bit, and you end up with tender chicken in a delicious spicy sauce.
For the next meal, we shredded the chicken and had it along with fresh tortillas, a little sour cream, and a few pickled jalapenos to create great soft tacos.
For Sunday dinner, we stirred the shredded chicken back into the sauce, added a cup or so of water and warmed it up. We swirled a little sour cream into it and it was a delicious and satisfying chicken stew.
Incredibly easy, fairly healthy ingredients, and a great dish to use over and over in different ways!
Crockpot Chicken with Black Beans and Corn
Total Time:
4 hours
5 minutes
Quick, easy, and delicious hearty chicken dish.
Ingredients
2-3 frozen, , boneless chicken breasts
1, 15 oz can black beans, , drained
1, 15 oz can corn, , drained
1, 16 oz jar of your favorite salsa
1 heaping tsp. chili powder
salt to taste
Instructions
Place frozen chicken breasts in the crockpot and pour the black beans and corn on top.
Stir in the chili powder and turn the crockpot on high.
Cook for 3 ½ to 4 hours on High. Salt to taste. Serve with creamy mashed potatoes, noodles or rice. (See notes under Tips and Stuff for other ideas.)
Notes
Tips and Stuff:
I used two fairly large chicken breasts for this batch.
At the end of 3 ½ hours, I took the lid off, ladled about half a cup of sauce into a bowl and stirred in 2 tblsp. of flour until smooth.  Poured the floured sauce back into the crockpot, stirred, and let it simmer on high for about 15 minutes to thicken the sauce.
The chicken is really good shredded with a fork.
Next time I might throw in a can of green chile's or maybe even a can of hominy. It's very versatile.
To serve leftovers as a stew, add a cup or two of water and heat in microwave or on the stove. Serve with a dollop of sour cream on top.
Nutrition Information:
Yield:

6
Serving Size:

1 serving
Amount Per Serving:
Calories:

234
Total Fat:

3g
Saturated Fat:

1g
Trans Fat:

0g
Unsaturated Fat:

2g
Cholesterol:

51mg
Sodium:

1109mg
Carbohydrates:

27g
Fiber:

8g
Sugar:

6g
Protein:

26g
Nutrition Values are Approximate