This month's Daring Baker's challenge started out iffy for me. When I saw the words gluten-free, I thought, "ack-no flour, no taste!" But ever up for a challenge and figuring since it was full of seeds and nuts I could feed it to the hungry squirrels outside if we didn't like it, I started on the recipe. One of the choices this month was No Knead Apple and Nut Bread by Rachel Khoo.
The first adventure was finding the ingredients. Since I don't usually use these kind of ingredients, I went over to Whole Foods and spent about an hour hunting them down. The stocking fellas looked at me like I had three heads when I asked for Linseed. Apparently it's unobtainium, so I decided the recipe would survive without it.
After converting the grams to ounces and milliliters to cups, it was easy to mix together by hand and pack into the loaf pan. I highly recommend using the suggested parchment paper lining the pan, so the loaf can be easily lifted out: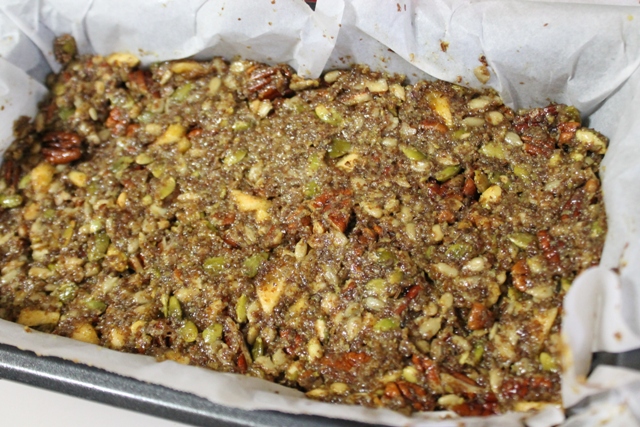 This is called bread and I was skeptical, but the milled flaxseed along with the eggs created the dough and all of the seeds and nuts added quite a nice texture and crunch.
You bake it for almost an hour, until it almost sounds hollow when you thump it. I thought it would turn out break-your-teeth hard, but it didn't. Here you can see the lovely nuts, seeds and apple combination:

After it completely cooled it was actually tender and very sliceable. Bret was looking dubious while I slowly took a bite and was amazed when I didn't spit it out.
I really had no expectations of goodness at all and was pleasantly surprised by the wonderful levels of flavor from the nuts and seeds, along with the crunchy and hearty texture.

I ate a slice after taking photos, then ate a slice with cream cheese and Texas Plum Jam for dessert. It's wonderful!
The only change I would make is to leave the caraway seed out - I'm not a big caraway fan, but wanted to be true to the recipe.
For breakfast I had a slice with cream cheese and honey. It was the best combination so far and was almost decadent!

I always enjoy the Daring Baker's Challenges, but this month's is one of my favorite and this recipe will be made again and again. I'd love to put chopped dates in it next time and maybe sweeten the dough with a bit of agave or honey. I highly recommend this recipe - it shows me that gluten-free recipes can be awesomely tasty, too!
I love this bread!
Apple, Seed and Nut Bread
Wonderful gluten-free nut bread. The nut/apple combination is wonderful.
Ingredients
3.5 oz sunflower seeds
3.5 oz pumpkin seeds
7 oz chopped pecans
4 oz dried, chopped apple
5.25 oz milled flaxseed
4 eggs
⅓ C oil
1 teaspoon salt
Instructions
Preheat oven to 350 degrees. Line a loaf pan with parchment paper.
Mix all of the ingredients together in a large bowl until completely combined.
Pour into the lined loaf pan and level out with a spoon.
Bake for 50 minutes or until it is firm and sounds hollow when thumped. Cool for 10 minutes in the pan, then lift out the bread and cool completely on a rack.
Notes
Tips and Stuff:
The original recipe called for "almonds, hazelnuts or walnuts," but I used pecans because I had them and they're delicious.  Any of those would be good.
The original recipe also called for 1 ½ tbsp. of caraway seed.  I put in a scant tablespoon and it does add a licorice kind of taste to it.  I do not like caraway, though, and will not add it next time.  (Anyone want a bag of caraway seeds...?)
It also called for 3.5 oz of linseed, which I couldn't find, in case you have it in your cabinet and want to use it....
This would be great with other dried fruit added - dried cherries, dates, etc.  I'm going to be experimenting with it.
Nutrition Information:
Yield:

12
Serving Size:

1 slice
Amount Per Serving:
Calories:

346
Total Fat:

31g
Saturated Fat:

3g
Trans Fat:

0g
Unsaturated Fat:

26g
Cholesterol:

62mg
Sodium:

720mg
Carbohydrates:

13g
Fiber:

7g
Sugar:

2g
Protein:

9g
Nutrition Values are Approximate