The wildflowers in Texas are just beautiful in the Spring. Along with the bluebonnets (the state flower), this year the Indian paintbrush, buttercups and spotted beebalm (I had to look that one up) are blanketing central Texas.
On a mini-vacation, we drove Highway 16 from Fredricksburg to Llano and I was amazed the entire drive. So amazed that I forgot to take photos, but I'll never forget how beautiful the flowers were this Spring.
I hope you have the time to get out for a drive before they go away (or end up trampled from people standing in them and taking pictures!).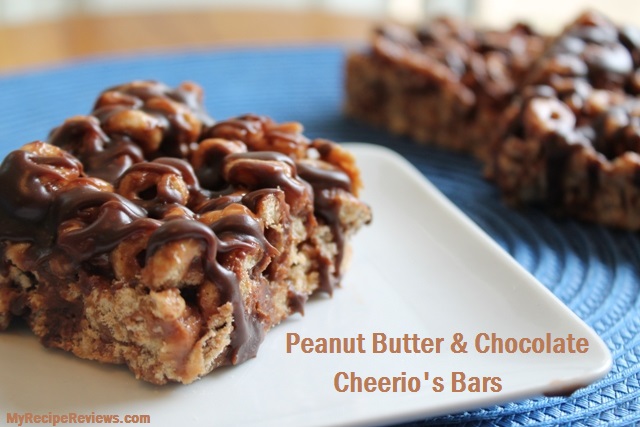 Since we've been driving around looking at flowers, I haven't posted too many recipes. We were needing something sweet in the house (yes, needing) and I remembered this recipe. It's quick, easy, no-bake and delicious for snacking.
I do feel like we're being a little healthy (besides the corn syrup and sugar) in that the Cheerios and chocolate are good for you and peanut butter has a lot of protein. OK, OK. They're just really good.

These Peanut Butter & Chocolate Cheerio's Bars are chewy, sweet and salty - all of the components I like in a dessert!
I have to admit I ate one to make sure they were ready to eat, then ate another one after taking the photos. Very addictive and delicious. If you're looking for an easy and really good sweet snack or dessert, I highly recommend these.
Peanut Butter & Chocolate Cheerio's Bars
Chewy, crunchy, sweet and salty.
Ingredients
6 C Cheerios
¾ C chocolate chips
1 C sugar
1 C light corn syrup
1 C creamy peanut butter
¼ to ½ tsp. sea salt
Optional Chocolate Drizzle:
1 oz block chocolate bark
2-3 tablespoon whipping cream
Instructions
Measure the Cheerio's and chocolate chips into a large bowl and set aside. Generously butter or layer with parchment paper, a 9"x13" pan.
In a heavy sauce pan, combine the sugar and corn syrup and stir to combine over medium heat. As the mixture melts, stir constantly. It will boil for a few minutes while you are stirring. After stirring for about 5 minutes, remove from the heat and quickly stir in the peanut butter until smooth.
Pour the peanut butter mixture into the cereal mixture and, working quickly, stir to coat the cereal. The chocolate chips will melt while you are stirring.
Pour the mixture into your prepared pan, smoothing evenly. Sprinkle with the sea salt and allow the mixture to set for about 20 minutes before cutting.
To make the optional drizzle: Put the little block of bark into a microwave save bowl and melt for 30 to 45 seconds, stirring at least once. Remove from microwave and stir in cream, 1 tbsp. at a time until the mixture is creamy and of pouring consistency. Drizzle over the bars.
Notes
Tips and Stuff:
If you don't have sea salt (or other large-grained salt), don't use table salt. It will be fine if you leave the salt off.
I highly recommend using the chocolate drizzle. It adds another nice dimension of chocolate and makes them prettier.
You can use any kind of cereal you have handy, although a sweetened cereal won't work as well.
Add ½ C. or so of salted peanuts if you happen to have them in the cupboard. That would add a nice crunch.
Nutrition Information:
Yield:

30
Serving Size:

1 bar
Amount Per Serving:
Calories:

167
Total Fat:

7g
Saturated Fat:

3g
Trans Fat:

0g
Unsaturated Fat:

4g
Cholesterol:

4mg
Sodium:

88mg
Carbohydrates:

25g
Fiber:

1g
Sugar:

19g
Protein:

3g
Nutrition Values are Approximate