An unexpected package from my friend, Sherlynn (who is an avid foodie), came in the mail last month - Classic Home Desserts by the late Richard Sax. It's a James Beard book award winner and is awesome, not only for the recipes and photos, but also for the stories behind the recipes.
Sherlynn specifically mentioned this Double Chocolate Pudding and it looks so wonderful that I just had to try it: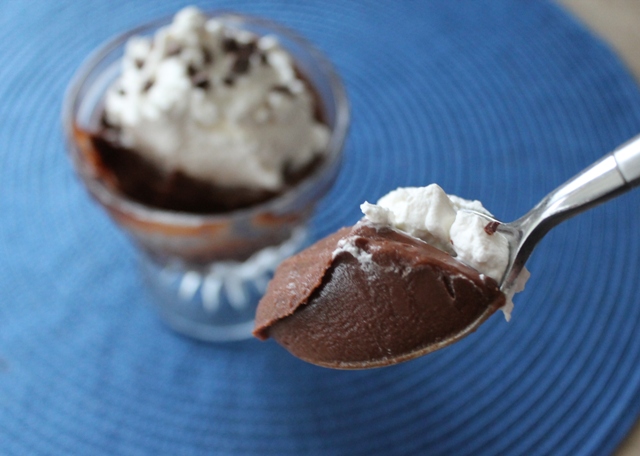 As you can see above, I got to taste test it while taking photos. I kept thinking, "just one more picture," mainly so I could keep getting little tastes. And yes, it's as delicious, chocolaty and creamy as it looks.
I've never had the occasion to make from-scratch chocolate pudding and this one will be the only one I ever use from now on.
Double Chocolate Pudding is moderately easy to put together, although I recommend reading carefully through the recipe first and getting your ingredients, utensils, bowls and pans ready before you start. You need to pay full attention while the ingredients are cooking on the stove.
Oh, and don't forget the fluffy whipped cream. You'll love this homemade pudding - it's terrific.
Sherlynn sent this cookbook to me because she knows I love baking and thought it would be a great addition to my collection. And it is! That made me feel so special and every time I bake something from it, I think of her.
Double Chocolate Pudding
Total Time:
1 hour
25 minutes
Deep chocolate flavor and creamy, dreamy texture. From Classic Home Desserts by Richard Sax.
Ingredients
2 ¼ C. milk (divided)            
½ C. sugar (divided) 
Pinch of salt
3 tbsp. unsweetened cocoa powder 
2 tbsp. cornstarch, sifted
1 large egg 
2 large egg yolks
5 oz. best-quality semisweet chocolate, finely chopped
2 tbsp. unsalted butter 
1 tsp. pure vanilla extract
For the Whipped Cream:
1 C. heavy whipping cream 
1 tbsp. sugar
1 tsp. pure vanilla extract
Instructions
Place 2 cups of the milk, ¼ cup of the sugar and the salt in a heavy nonreactive saucepan. Bring to a boil over medium heat.
Meanwhile, mix together the remaining ¼ cup of sugar, the cocoa and the cornstarch in a large bowl. Whisk in the remaining ¼ cup of cold milk until smooth and free of lumps.
Slowly whisk the hot milk mixture into the bowl; return the mixture to the saucepan. Slowly bring to a boil over medium-low heat, stirring very frequently. Boil gently, stirring constantly, until the mixture is fairly thick, about 2 minutes.
In a small bowl, whisk the egg and egg yolks together. Slowly whisk in 1 cup of the hot cocoa mixture. Whisk the egg mixture back into the hot cocoa mixture. Cook over medium-low heat, whisking constantly, until the mixture becomes slightly thicker, 3 to 4 minutes. Do not allow the mixture to boil or overcook.
Transfer the pudding to a clean bowl and lay a sheet of wax paper or plastic wrap directly on the surface. Cool slightly on a wire rack.
Melt the semisweet chocolate with the butter in a small saucepan. Stir until smooth and cool slightly; the chocolate should remain pourable.
Whisk the chocolate into the thickened egg mixture; stir in the vanilla. Pour the pudding into 5 ramekins or pudding cups. To prevent a skin, place plastic wrap gently onto the surface of each dish. Refrigerate until cool - at least an hour.
To make the whipped cream, chill a bowl first, then add the whipping cream, sugar and vanilla. Beat with a mixer until stiff peaks form.
Just before serving, put a couple of tablespoons of the whipped cream over each pudding and, if you wish, sprinkle some shaved chocolate over the whipped cream.
Notes
Tips and Stuff:
I used 2% milk for the pudding and it still came out beautifully.  I also used salted butter because that's what I had.
I used Ghirardelli semisweet chocolate chips and chopped them before melting.
Be sure and watch the mixtures while they're on the stove and read the instructions carefully so they won't burn.
Mmmm, Mmmm good.
Nutrition Information:
Yield:

5
Serving Size:

1
Amount Per Serving:
Calories:

432
Total Fat:

34g
Saturated Fat:

20g
Trans Fat:

1g
Unsaturated Fat:

12g
Cholesterol:

215mg
Sodium:

40667mg
Carbohydrates:

27g
Fiber:

2g
Sugar:

20g
Protein:

8g
Nutrition Values are Approximate