Many of you who know me well also know that I'm an avid Starbuck's fan. I didn't start drinking coffee until after the age of thirty, but when I did, I did so with great gusto.
Life without coffee would be the pits, although lately I can't drink caffeine after about 2 p.m. or I'll be up watching infomercials until 3 a.m.
For this White Chocolate Cherry Blondies recipe, however, I'll make an exception.
This is a knock-off of the good old Starbuck's Cranberry Bliss bars, except for the substitution of wonderful sweet/tart Montmorency dried cherries instead of cranberries. They're even better than I remembered!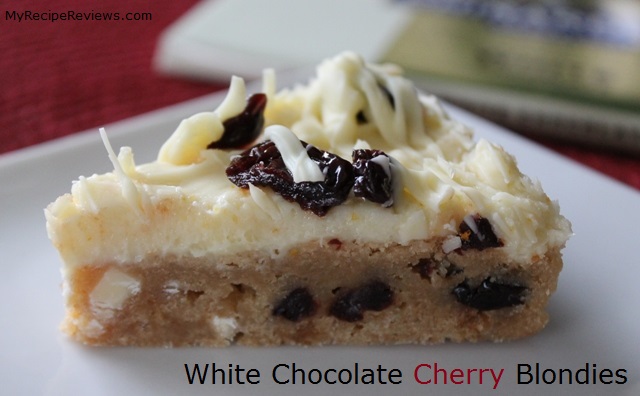 The thick fluffy cream cheese and white chocolate frosting with orange zest complements the dense and rich blondie that's filled with cherries and chunks of white chocolate.
As if that's not enough, let's sprinkle some cherries on top and drizzle with more white chocolate! They're just incredible.
As holiday baking is winding down, I've determined that this is my favorite Christmas recipe this year.
If you try any of the Christmas goodies I've posted, definitely try these White Chocolate Cherry Blondies!
White Chocolate Cherry Blondies
Outstanding base sprinkled with cherries and a creamy cream cheese, white chocolate frosting.
Ingredients
¾ C butter
1 ½ C packed light brown sugar
2 eggs
¾ teaspoon vanilla extract
2 ¼ C flour
1 ½ teaspoon baking powder
¼ teaspoon salt
⅛ teaspoon ground cinnamon
½ C dried cherries,  chopped
4 oz white baking chocolate, ,coarsely chopped
Frosting:
1 pkg., (8 oz.) cream cheese, softened
1 C confectioners sugar
1 tablespoon grated orange peel
4 oz white baking chocolate, melted
½ C dried cherries, chopped
Instructions
Preheat oven to 350 degrees. In a microwave, melt the butter and stir in the brown sugar. Transfer to a large bowl; cool for a few minutes. Beat in the eggs, one at a time, and add the vanilla.
In a separate bowl, combine the flour, baking powder, salt and cinnamon. Gradually add to the butter mixture and mix until combined. Stir in the cherries and chopped chocolate. The batter will be thick and a little sticky.
Prepare a 13"x9" baking dish by lining with aluminum foil that sticks out at each end by about 2 inches. Spray the foil lightly with nonstick spray. Spread the batter into the dish and bake for 18-20 minutes until a toothpick comes out clean.
Lift the aluminum foil out of the baking dish, peel away from the baked blondie and let cool completely on a wire rack.
For the frosting, beat the cream cheese, confectioners sugar and orange peel until thick and smooth. Gradually add the melted white chocolate and beat until blended. Frost the blondies and sprinkle with the remaining dried cherries.
If you wish, melt another 2 oz. of white chocolate and drizzle over the top of the blondies. Store in the refrigerator.
Notes
Tips and Stuff:
You can use cranberries, too - they're a brighter red for the season.  I prefer the taste of cherries.
I used Ghirardelli white chocolate baking bars - they melt much more smoothly than the chips or blocks.
I like to use the aluminum foil while baking these because you can cut those triangles so much easier if the entire blondie is lifted out of the pan to cool.
Nutrition Information:
Yield:

30
Serving Size:

1 blondie
Amount Per Serving:
Calories:

199
Total Fat:

9g
Saturated Fat:

6g
Trans Fat:

0g
Unsaturated Fat:

3g
Cholesterol:

26mg
Sodium:

96mg
Carbohydrates:

26g
Fiber:

2g
Sugar:

16g
Protein:

3g
Nutrition Values are Approximate