Updated: September 2021
Onward with the Christmas baking! I believe in trying new holiday recipes because you can discover some really nice ones.
This one will definitely go into the recurring recipe file. It's called Glazed Apple Cinnamon Oatmeal Bread, but is actually made with applesauce (and a little Greek yogurt). There aren't actually any chunks of apple in it.
The combination of ingredients makes a very, very moist and tender cake.

I think Julie at Lovely Little Kitchen is pure genius making the glaze with applesauce and powdered sugar. After letting the bread cool 10 minutes or so, the glaze soaks into it and creates a wonderfully sweet topping to a not-too-sweet bread. It's wonderful!
While taking photos, I ate two slices...can't have an end piece in the picture, right? Then I had to taste a regular piece so I could intelligently (ahem) review it for you. It was all I could do to keep from getting a fork and digging into the whole loaf.
It's an addictive, soft, wonderful little bread. And it makes two loaves so you can give one away and keep one. You'll need to keep one, definitely.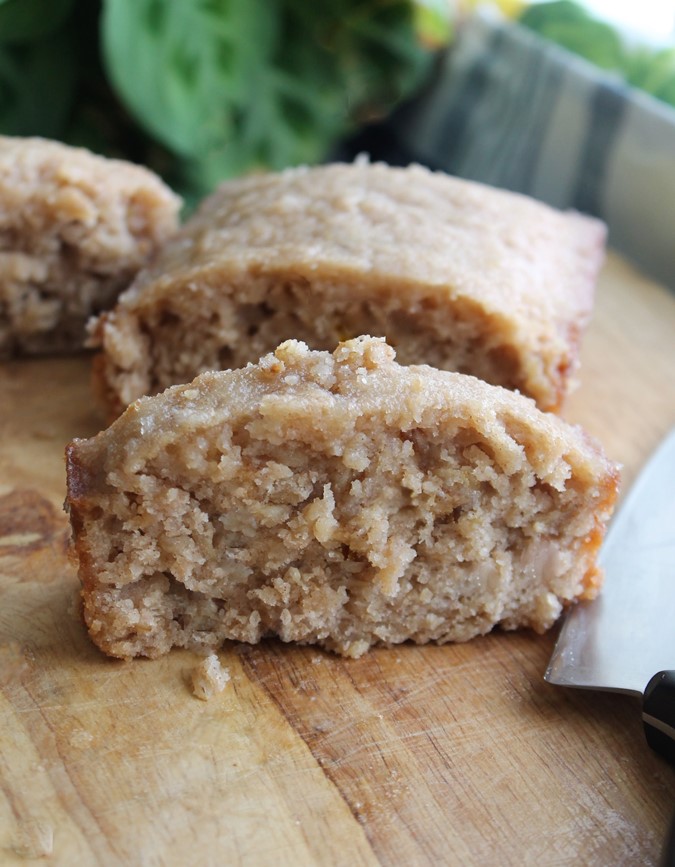 This Glazed Apple Cinnamon Oatmeal Bread is made in two bowls, dry ingredients and wet ingredients. Combine those two, fold gently until just blended (to keep it tender), then bake it.
The texture is so soft and amazing with that slight chew from the oatmeal. I think it would be a really good muffin, too. Add raisins and you'd have an Oatmeal Cookie-tasting bread.
You can halve this recipe easily. The loaves aren't real tall, but they're the perfect size for breakfast, dessert, or a walk-through-the-kitchen anytime snack. It's lightly spiced with cinnamon and makes your kitchen smell like grandma's kitchen during the holidays.
You and your family and friends will love this homemade applesauce oatmeal bread. If you like this, you may also like Oatmeal Honey Apple Cake (also made with applesauce).
Glazed Apple Cinnamon Oatmeal Bread
Great oatmeal bread, lightly spiced , made moist with applesauce and an amazing glaze!
Ingredients
1 ¾ C. flour
1 C. old-fashioned oats
¼ tsp. salt
1 ½ tsp. cinnamon
1 ½ tsp. baking powder
1 C. sugar
¾ C. vegetable oil
2 eggs, beaten
½ C. plain nonfat Greek yogurt
1 C. applesauce
1 tsp. vanilla
Glaze:
⅔ C. powdered sugar
¼ C. applesauce
Instructions
Preheat the oven to 350 degrees and grease two 8 ½x4 ½" loaf pans.
In a large bowl, add flour, oats, salt, cinnamon, and baking powder and stir to combine. Set aside.
In another bowl, whisk together the sugar, oil, eggs, yogurt, applesauce and vanilla. Fold the dry ingredients into the wet ingredients by hand until just combined.
Divide the batter between the two loaf pans and bake for 41-45 minutes (test doneness with a toothpick - it should come out a little moist, but mostly clean).
Remove from the oven and keep in pan for 5 minutes. Meanwhile, whisk together the powdered sugar and applesauce in a small bowl.
Turn out the bread onto a cooling rack with waxed paper under it. Spoon the glaze evenly over both loaves. Allow the glaze to set before slicing.
Notes
Tips and Stuff:
Just fold the ingredients until they're combined - about 15 strokes.  You want that lovely oatmeal texture coming through without being tough.
I used a glass loaf pan and a metal loaf pan and both worked equally well.  The loaves won't rise quite as high as conventional quick breads, but they end up great.
Let the glaze dry completely before wrapping with plastic wrap.
You can successfully halve the ingredients in this recipe for one loaf.
Nutrition Information:
Yield:

20
Serving Size:

1 slice
Amount Per Serving:
Calories:

204
Total Fat:

9g
Saturated Fat:

1g
Trans Fat:

0g
Unsaturated Fat:

8g
Cholesterol:

19mg
Sodium:

76mg
Carbohydrates:

28g
Fiber:

1g
Sugar:

16g
Protein:

3g
Nutrition Values are Approximate