To paraphrase Robert Duvall, "I love the smell of peaches in the morning…" OK, we're all very aware of my love for peaches, but only ripe, juicy and sweet ones, I promise!
I was thinking about making something that would challenge me a bit – something new and not tried before – and came across a Peach Sorbet recipe by Martha Stewart.  Martha's recipe  (she lets me call her Martha) added a lot of sugar and I was wanting something creamier with less sugar, so I substituted honey for the sugar and milk for a portion of the water. The result was a thick, creamy mixture.

I tasted some right out of the mixer and it was wonderful. I almost prefer the pre-frozen soft-serve texture over the frozen sorbet. I tried a hunk of it right out of the freezer and it was entirely too crunchy. It was at it's best when thawed at room temperature for about 30 minutes before serving.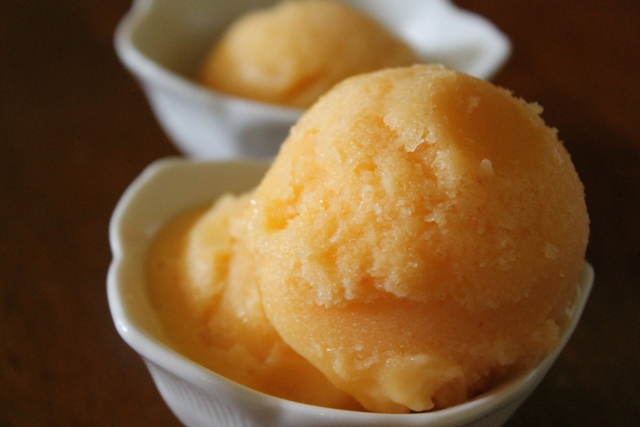 I set it out while preparing lunch and by the time we were finished eating, the texture was perfect. It's smooth and creamy, and the addition of honey adds a nice level of flavor without overpowering the fresh peaches. This would be great made into popsicles if you're making it for the kids.
Peaches and Honey Sorbet
****Adapted from Martha Stewart's Peach Sorbet . This is delicious and tastes so good for you! I love the light honey aftertaste. Best with fresh summer peaches.
Ingredients
3  1/2

to 4 C fresh peaches

peeled, sliced and frozen

1/4

C

water

1/2

C

2% milk

1/4

C

honey

1

tsp

fresh lemon juice

(about 1/2 lemon)

1

pinch of salt
Instructions
To freeze peaches: Lay sliced peaches flat on a cookie sheet or in a cake pan and freeze for about 3 hours until very firm.

To make the sorbet: In a small bowl, combine the water, milk, honey, lemon juice and salt and stir until the honey is completely incorporated. Put frozen peaches into a mixer, then pour the liquid mixture over the peaches. Blend for 10-15 seconds until peaches are completely blended and the mixture is thick and creamy. Pour into a loaf pan and freeze; or eat while deliciously soft.

If frozen, let it thaw for at least 30 minutes before serving.
Recipe Notes
Tips and Stuff:
It took a combination of about 7-8 medium and small peaches to get 4 cups. Make sure you use fresh lemon juice - not the bottled.  It brings out the flavor of the peaches very nicely. Don't forget to let it thaw before serving. These would be good made into popsicles!