To paraphrase Robert Duvall, "I love the smell of peaches in the morning..." That would be me. Love them!
I was thinking about making something that would challenge me a bit - something new and not tried before. Then I came across a Peach Sorbet recipe by Martha Stewart. After a few healthier changes, I renamed it to Peaches and Honey Sorbet.
Martha's recipe (sometimes she lets me call her Martha) adds a lot of sugar and I was wanting something creamier with less sugar. I substituted honey for the sugar and milk for a portion of the water. The result is a thick, creamy, sweet mixture.

We tasted some right out of the mixer and it was wonderful. I almost prefer the pre-frozen soft-serve texture over the frozen sorbet.
Right out of the freezer it's entirely too crunchy. It's at it's best when thawed at room temperature for about 30 minutes before serving.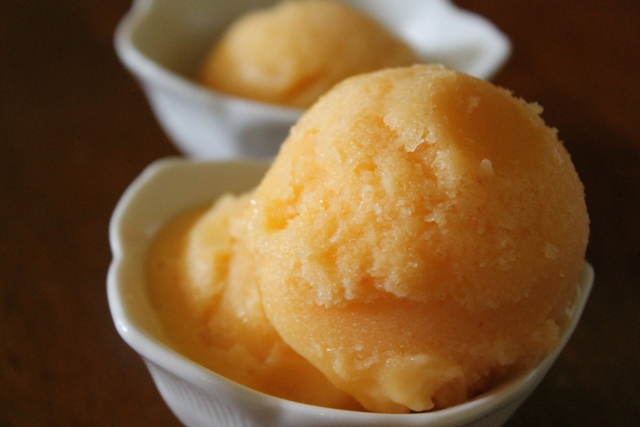 I set it out while preparing lunch and by the time we were finished eating, the texture was perfect.
Peaches and Honey Sorbet is smooth and creamy, and the addition of honey adds a nice level of flavor without overpowering the fresh peaches. This will be great made into popsicles if you're making it for the kids.
Peaches and Honey Sorbet
Total Time:
3 hours
15 minutes
This is delicious and tastes so healthy!  I love the light honey aftertaste.  Best with fresh summer peaches.
Ingredients
3  ½ to 4 C fresh peaches, peeled, sliced and frozen
¼ C water
½ C 2% milk
¼ C honey
1 teaspoon fresh lemon juice, (about ½ lemon)
1 pinch of salt
Instructions
To freeze peaches: Lay sliced peaches flat on a cookie sheet or in a cake pan and freeze for about 3 hours until very firm.
To make the sorbet: In a small bowl, combine the water, milk, honey, lemon juice and salt and stir until the honey is completely incorporated.
Put frozen peaches into a blender, then pour the liquid mixture over the peaches. Blend for 10-15 seconds until peaches are completely blended and the mixture is thick and creamy. Pour into a loaf pan and freeze; or eat while deliciously soft.
If frozen, let it thaw for at least 30 minutes before serving.
Notes
It took a combination of about 7-8 medium and small peaches to get 4 cups.
Make sure you use fresh lemon juice - not the bottled.  It brings out the flavor of the peaches very nicely.
Don't forget to let it thaw before serving. These would be good made into popsicles!
Nutrition Information:
Yield:

8
Serving Size:

1 serving
Amount Per Serving:
Calories:

145
Total Fat:

1g
Saturated Fat:

0g
Trans Fat:

0g
Unsaturated Fat:

1g
Cholesterol:

1mg
Sodium:

24mg
Carbohydrates:

35g
Fiber:

4g
Sugar:

32g
Protein:

3g
Nutrition Values are Approximate