Bret worked in a barbecue joint in East Texas in high school and learned a few tricks of the trade, including this tangy and Spicy BBQ Sauce.
Every time he makes brisket, I insist that he makes this wonderful sauce to go with it. After he had made it two or three times, I shadowed him and finally got the recipe written down for the recipe file.
First, you need to understand the brisket. It's such a simple recipe that I'm not going to make a separate post for it.
OK, here it is (drum roll, please): turn the oven to 225 degrees, stick the packer brisket (not trimmed) fat side up in the oven and leave it there for 10 hours or until a large fork pulls out freely when stuck into the brisket.
No salt, no pepper, no rub. The fat from the brisket melts down into the brisket and creates the most flavorful, tender brisket you can imagine.
Then, of course, you top it with this delicious homemade barbecue sauce!

The sauce is easy to make, but takes a bit of time to simmer while cooking. There's nothing better than homemade sauce, and this is one of the best I've had.
If you want a tangier, delicious BBQ sauce, try my Tangy Homemade Barbecue Sauce. It's outstanding!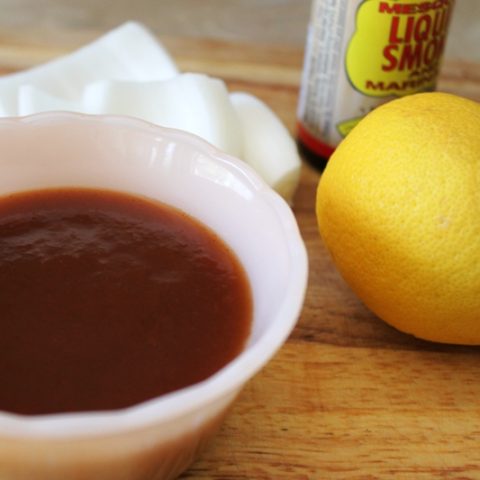 Spicy BBQ Sauce
Total Time:
2 hours
10 minutes
Sweet, spicy, kind of smokey BBQ sauce.
Ingredients
1 sauce pan of water, about ⅔rds full (about 5 Cups of water)
½ large onion, quartered
½ lemon, quartered
¼ C. liquid smoke (mesquite is best)
¾ C. ketchup, room temperature
3 tbsp. brown sugar
⅛ to ¼ tsp. cayenne
Instructions
Simmer the water, lemon and onion until they are decimated, about 2 hours. Strain the mixture and throw away the onions and lemon, pouring the
flavored water into a larger pan (like a Dutch oven).
To the flavored water, add the liquid smoke, ketchup, brown sugar and cayenne
and simmer for another hour, stirring occasionally.
Cool and pour into glass jar(s). Refrigerate after completely cooled.
If desired, while the mixture is simmering, put 1 tbsp. flour into a cup and pour about ½ C of the sauce into it. Stir until creamy and all lumps are gone. Pour it back into the pan with the bbq sauce and stir thoroughly until blended in. Simmer and occasionally stir at least 15 more minutes until thickened. You can add more flour if you want a thicker sauce.
Notes
Start with the ⅛ tsp. cayenne, but taste - you may want to add more.  I accidentally added 1 tsp. instead of ½ tsp. and it was wayyyyyy spicy.  I then added double ingredients to it (except for the cayenne) and it was still spicy (but good!)
Can be easily doubled.  Next time I might even add a little honey to see how that tastes.
Nutrition Information:
Yield:

32 tablespoons
Serving Size:

1 tablespoon
Amount Per Serving:
Calories:

13
Total Fat:

0g
Saturated Fat:

0g
Trans Fat:

0g
Unsaturated Fat:

0g
Cholesterol:

0mg
Sodium:

76mg
Carbohydrates:

3g
Fiber:

0g
Sugar:

3g
Protein:

0g
Nutrition Values are Approximate