I haven't posted for over a week and am going through recipe withdrawal.
I've been kind of waiting with this one because the April Daring Baker's challenge was due to be posted today and I've been involved in creating the bread along with trying to take some decent photos.
My amateur photography skills don't do this bread justice, but maybe you can get the gist of how it's supposed to look!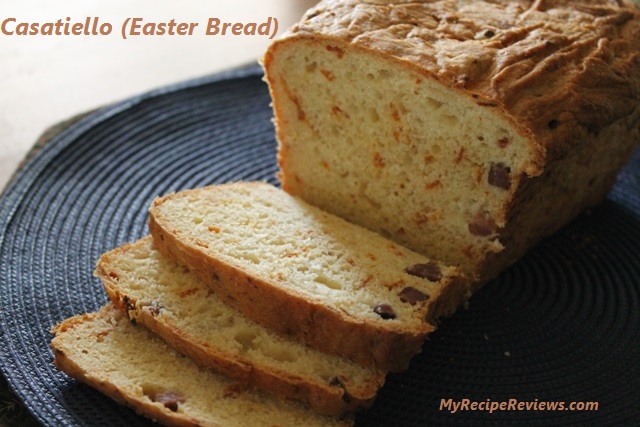 The April Daring Baker's Challenge was hosted by Wolf of Wolf's Den . She challenged us to Spring into our kitchens and make Easter breads reflecting cultures around the world.
I wanted to make something a little different, so chose Casatiello from Mangia Bene Pasta , a wonderful site for authentic Italian dishes.
Casatiello is described as a traditional savory Easter bread from Naples, Italy, that is usually baked in paper bags or molds. Not sure how this would work being baked in a paper bag without slopping out everywhere, but I guess they have their techniques!

This cheese and meat-filled bread ended up being a dense, rather coarse bread that was really good toasted and buttered while warm. But I also discovered it's great when layered with fresh spinach and a slice of provolone cheese then grilled with butter in a skillet (you'll notice a butter theme going here).
It took over 4 hours (!) to make, which to me is a long time to cook or bake anything, but the result was a savory bread that will be nice made into sandwiches or a side for a meat and potatoes dinner.
It really should make two loaves, but I made one very large loaf and several mini-loaves, which were really cute (and quite tasty...).
Casatiello
Inactive Time:
4 hours
30 minutes
Total Time:
5 hours
40 minutes
Makes either two regular-sized loaves (recommended) or one giant loaf and several mini-loaves.
Ingredients
Sponge:
½ C flour
1 packet dry active yeast
1 C warm buttermilk,, about 105°
Dough:
2 oz. chopped pepperoni
2 oz. chopped cooked sausage,, ¼-inch cubes
3 ½ C. flour
1 tsp. salt
1 tbsp. sugar
2 eggs,, slightly beaten
6 oz. butter,, room temperature
6 oz. shredded provolone
Olive oil for greasing pans and brushing on loaves
Instructions
To make the sponge: combine the flour and yeast in a bowl. Stir in the buttermilk to make a pancake-like batter. Cover with a kitchen towel or plastic wrap and allow to ferment for 1 hour.
To make the dough: Combine the flour, salt and sugar on low with the paddle attachment of your mixer. Add the eggs and the sponge and combine the mixture until a very coarse dough forms.
Divide the butter into 5 or 6 small pieces and work into the dough, one piece at a time. The dough will begin to get softer and more elastic.
Transfer the dough to a lightly floured surface at this point. Knead the dough until smooth. Add the pepperoni and sausage to the dough and knead until evenly distributed. Add the shredded cheese and knead the dough again until the cheese is distributed.
Lightly grease a large bowl, transfer the dough to the bowl and turn it to coat all sides. Cover the bowl with a kitchen towel or plastic wrap. Allow the dough to rise in a warm place for 1 ½ to 2 hours or until the dough increases by 1 ½ times in size.
Divide the dough into 2 pieces for regular-sized loaves or pull ¼ of the dough aside for mini-loaves and use the rest in a very large loaf pan. Lightly grease the baking pans. Shape the dough and place in the pan(s).
Cover the pans with a kitchen towel or plastic wrap. Allow the loaves to rise for 60 to 90 minutes or until the dough reaches the top edge of the pan. Preheat the oven to 350 degrees and lightly brush the tops of the loaves with olive oil. Bake the loaves for 40 to 50 minutes or until golden brown. Transfer the pans to a cooling rack and allow to cool in the pans for 10 to 15 minutes, then remove and allow to cool completely.
Notes
Tips and Stuff:
I used the minimum rising times and the dough rose beautifully.
The original recipe called for bread flour, but I used regular AP flour because that's what I had on hand.  The crumb may be a little less dense when using bread flour.
I baked the large loaf for 40 minutes and took the mini-loaves out after 30 minutes.
Add any meat you'd like - bacon, pepperoni, sausage, etc., as well as any cheese you may prefer (Asiago, cheddar, etc.)
You can stir in the ingredients and knead by hand if you don't have an electric mixer.
Nutrition Information:
Yield:

20 slices
Serving Size:

1 slice
Amount Per Serving:
Calories:

226
Total Fat:

13g
Saturated Fat:

7g
Trans Fat:

0g
Unsaturated Fat:

5g
Cholesterol:

48mg
Sodium:

345mg
Carbohydrates:

21g
Fiber:

1g
Sugar:

1g
Protein:

7g
Nutrition Values are Approximate