I haven't had cabbage for years, but have always really liked it. Actually, the only way I've ever had it is boiled with bacon and onions and I still like it that way.
I bought a beautiful head of cabbage at the grocery in a burst of New -Year healthy- eating resolve, then got it home and stared at it. We don't usually keep bacon in the house, since I'd have bacon at breakfast, lunch and dinner if we did, and Bret doesn't like onions, so I wasn't sure what to do with this one.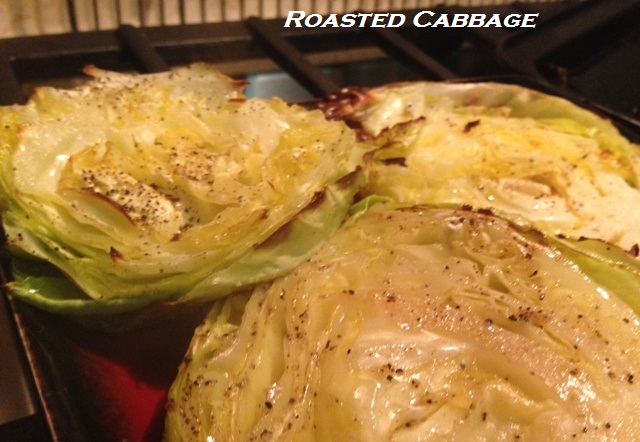 There are a lot of cabbage recipes out there, but this one caught my eye since I love almost any vegetable roasted. I didn't find one exactly to our tastes, so revised it somewhat and came up with a great combination of ingredients and roasting time.
It's simple, but is a tasty and healthy accompaniment to any meal, particularly pork. One night we had it along with a vegetable salad and baked sweet potato as our meal and it was wonderful.
I'll definitely add this to the frequent vegetable rotation.
Roasted Cabbage
Great side vegetable for a healthy meal.
Ingredients
One large head of cabbage
¼ C. olive oil
Garlic salt and pepper
Instructions
Preheat oven to 375 degrees.
Peel off the outer layer of the cabbage if it's not firmly surrounding the head. With core down, cut into 1 to 1 ½-inch slices. (The core keeps the cabbage together while roasting.)
Lightly spray a large baking sheet and place the cabbage slices onto it. Pour ¼ cup of olive oil into a bowl and lightly brush the top side of slices with it. Lightly sprinkle garlic salt and pepper.
With a spatula, carefully turn over the cabbage and repeat with oil, garlic salt and
pepper. Roast for 10-12 minutes, then carefully flip over cabbage slices and roast for another 9-10 minutes, until outside leaves are just turning brown and cabbage has softened. One head of cabbage makes 5-6 single slice servings
Notes
Tips and Stuff:
I like mine a little more done, so leave it in the full 13 minutes on each
side.  I do pull off the very browned outer layers as they seem a bit
bitter.  Just keep your eye on it and you'll figure out the texture you
like best.
I tried drizzling the olive oil on it, but don't have one of those neat-o
olive oil drizzling bottles.  I highly recommend putting the oil into a
bowl and using your food brush to brush the oil on the cabbage, making sure to
get the oil in the natural openings in the cabbage.  If I drizzled, I tended
to put too much oil.
Make sure the slices are a full 1 to 1 ½ inches thick or they'll fall apart
while roasting.
Nutrition Information:
Yield:

6
Serving Size:

1 slice
Amount Per Serving:
Calories:

83
Total Fat:

9g
Saturated Fat:

1g
Trans Fat:

0g
Unsaturated Fat:

8g
Cholesterol:

0mg
Sodium:

51mg
Carbohydrates:

1g
Fiber:

0g
Sugar:

0g
Protein:

0g
Nutritional values are approximate.