You can't go wrong with chocolate – especially with these Cook's Country's Triple Chocolate Sticky Buns!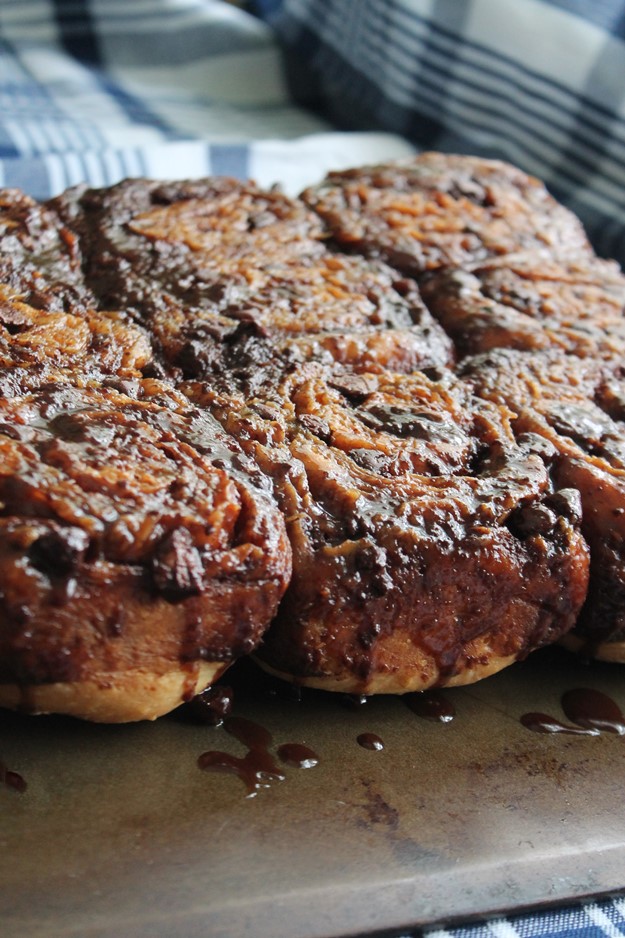 I'm in a wonderful little baking group and this month's challenge is chocolate. Chocolate. You couldn't pick a better challenge for us.
After perusing through my many cookbooks for something chocolate, I suddenly remembered a Cook's Country episode called 'Everything Chocolate.' This sticky buns recipe came up and my search was over.
While you're mixing the dough, you'll find it's rather sticky and tacky – that's normal. They're using a Japanese bread-making technique called tangzhong.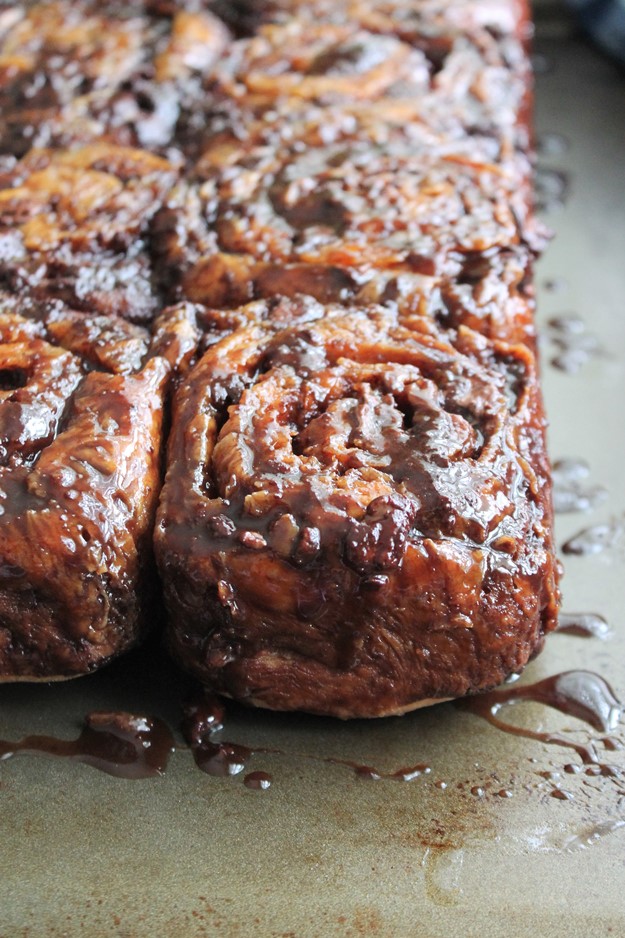 Tangzhong starts with a flour-water paste and pretty much everything else is dumped in the mixing bowl. The dough is mainly kneaded in the mixing bowl, also.
This technique makes for a very soft dough. It's probably the most pliable, soft dough I've ever worked with. It was very cooperative when gently stretching and rolling out into the 18×15″ rectangle. Sometimes yeast dough can spring back and be very frustrating!
Here's a photo of the swirled bottom of the bun so you can see what's inside:
Now, the taste. These sticky buns are a soft, tender texture – I can really tell the Japanese technique makes a difference. Then they're swirled and stuffed full of delicious chocolate mixtures and then finished with a sticky chocolate topping. Amazing.
I ran for a glass of milk after the first bite. They're incredibly chocolaty and rich, so get your senses ready. I actually stopped for a few seconds after the first bite, not believing they're so good.
These chocolate sticky buns aren't swimming in the chocolate topping. You may not think it's enough goo, but it definitely is. Perfect proportions of every ingredient. You positively need to love chocolate, though!
Triple-Chocolate Sticky buns aren't a sticky buns recipe you can whip up in a few minutes. It takes over 3 hours, with the mixing, 2-plus hours rising time, and baking. Then you have to wait the excruciating 15 minutes for them to set and cool after they're baked.
It's definitely worth the time and you can do a lot of other busy work during the rising times!
I hope you'll try these buns. They're so delicious and besides having quite a few dishes dirty at the end, they're a pleasure to make.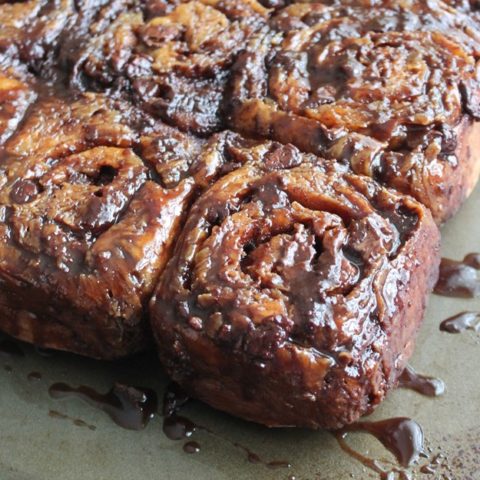 Triple-Chocolate Sticky Buns
Additional Time:
2 hours
30 minutes
Total Time:
3 hours
35 minutes
Richly delicious triple chocolate homemade rolls. Fantastic.
Ingredients
Flour Paste:
2/3 C whole milk
1/4 C (1.25 oz) all-purpose flour
Dough:
2/3 C whole milk
1 large egg, plus 1 egg yolk
3 1/4 C (16 1/4 oz) all-purpose flour
2 1/4 tsp instant or rapid-rise yeast (1 packet)
3 tbsp granulated sugar
1 1/2 tsp salt
6 tbsp butter, cut into 6 pieces and softened
Topping:
3/4 C packed (5 1/4 oz) brown sugar
6 tbsp butter, melted
1/4 C dark corn syrup
2 tbsp water
1 tbsp unsweetened cocoa powder
1/4 tsp salt
Filling:
4 oz. bittersweet chocolate or chocolate chips, chopped finely
4 tbsp unsalted butter
1 C (6 oz) semi-sweet or milk chocolate chips
Instructions
Flour Paste: In a small microwavable bowl, whisk together the milk and flour until smooth. Microwave 25 seconds, then whisk. Microwave two more times at 25 seconds, whisking between each time, until fairly thick. Remove from the microwave and whisk until smooth.
The Dough: Pour the thick flour mixture and the milk into a stand mixer bowl with a whisk attachment. Whisk until smooth. Add the egg and yolk and whisk until completely combined. Change the mixer attachment to a dough hook and add the flour and yeast to the bowl. Mix on low speed until a mass of dough forms and all of the flour is moistened, 1 to 2 minutes. Turn off the mixer. Don't remove the bowl, but cover it with a dish towel and let dough sit at room temperature for 15 minutes.
Add the sugar and salt to the dough mixture and knead on medium-low for 5 minutes. Add the softened butter and continue to knead until completely combined, scraping down the dough hook and bowl as needed, for 5 minutes longer. (Dough will be very sticky.)
Lightly flour your counter or marble and turn the dough out onto surface, scraping it all out with a rubber spatula. Knead just briefly - enough to form a ball, flouring your hands if needed. Spray a large bowl with cooking spray and put the dough ball into it, seam side down.
Cover the bowl tightly with plastic wrap and let rise at room temperature until doubled in size, about 1 hour to 1 hour 15 minutes.
The Topping: While the dough is rising, whisk all of the topping ingredients together in a medium bowl until combined. Spray a metal (not glass) 13x9" baking pan with cooking spray. Pour the topping (kind of a paste) into the pan and use a rubber spatula to spread it evenly to the edges of the pan. Set aside.
The Filling: About 30 minutes before the dough is done rising, in a microwave safe bowl, microwave the bittersweet chocolate and butter together at 50 percent power in 30 second bursts, stirring between each burst, about 1 1/2 minutes total. Refrigerate uncovered until needed for the filling, about 30 minutes.
Lightly flour your counter or marble. Turn out the risen dough onto the surface and gently stretch and/or roll it out to an 18x15" rectangle with the long end towards you.
Remove the chocolate mix from the refrigerator and stir until creamy, like frosting (microwave for 6 seconds if it's too thick). Gently spread the chocolate mix onto the dough, spreading to the edges, leaving about an inch at the top of the dough. Sprinkle the chocolate chips evenly across the dough to the edges.
Beginning with the long edge nearest you, gently (but not tightly) roll up the dough, nudging if needed. Lightly flouring your hands will help as the dough might stick slightly to the counter.
Pinch the seams closed and slightly push in the ends to make the thickness the same all the way across the roll. Place the roll seam side down before cutting.
Cut into 12 even pieces (about 1 1/2 to 2" each). Place each roll, seam side down into the prepared pan, spacing evenly. Cover the pan tightly with plastic wrap and let rise until buns are touching and puffy, about 1 hour.
Preheat the oven to 375°. Place a rimmed baking sheet on the lowest rack in case there are any drips. Remove the plastic from the pan and bake, uncovered until golden brown on top, about 20 minutes.
Cover the pan loosely with aluminum foil and continue to bake for 15-20 minutes longer, until the buns are approximately 200°.
Remove the pan from the oven and remove the foil. Immediately run a paring knife around the edges to loosen, then place a large platter or rimmed baking sheet over the buns. Flip the pan and the rolls should release onto the baking sheet (there's not a ton of goo, so it won't be too messy). Let buns cool for 15 minutes before serving.
Notes
The original recipe uses unsalted butter; I use salted because that's what I have.
The filling won't spread all the way to the edges, just spread the best you can with a offset spatula.
The dough is quite sticky, but very manageable. Don't use a lot of extra flour when rolling it out, but flouring your hands and rolling pin will help.
The rolls in the middle of the pan won't get as brown as the outside ones, so I added a few extra minutes onto the baking time.
Nutrition Information:
Yield:

12
Serving Size:

1
Amount Per Serving:
Calories:

569
Total Fat:

28g
Saturated Fat:

17g
Trans Fat:

0g
Unsaturated Fat:

9g
Cholesterol:

78mg
Sodium:

475mg
Carbohydrates:

72g
Fiber:

4g
Sugar:

32g
Protein:

9g
Nutrition Values are Approximate