sticky buns
You can't go wrong with chocolate – especially with these Cook's Country's Triple Chocolate Sticky Buns!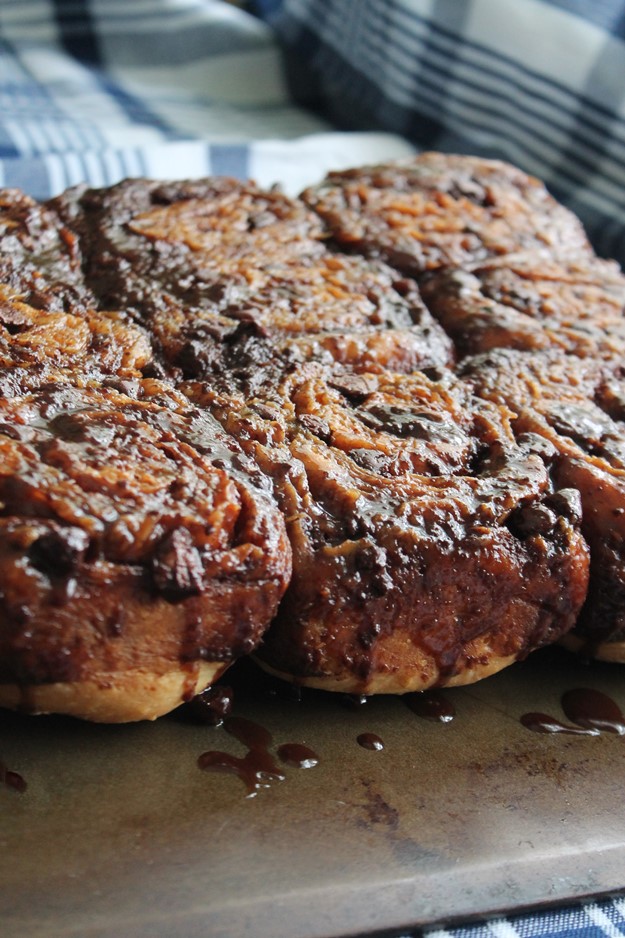 …

It's finally time for me to learn to make Sticky Buns and there's no better source to get the recipe from than America's Test Kitchen's top 20 recipes all of time. 
This is from Season 17 and is rated 5th overall.  Bret bought a 6-quart KitchenAid mixer for me and these buns are the perfect thing to make on its maiden voyage. (And I do mean voyage – this new mixer is as big as a boat.)
The ingredient list and the instructions look long and involved, but it's really rather straight forward to create these tasty little buns.
It starts with a sticky dough that becomes a beautiful, silky risen dough that's great to work with. The stand mixer does all the kneading work, so you can just sit back and take a little nap during the mixing.
The buns bake up soft, fluffy, and perfect. America's Test Kitchen does a great job on the instructions, detailing every step so that even a novice will succeed.
These Sticky Buns aren't actually dripping with gooey topping. They have just enough to make a perfect, thick layer of caramely and sticky goodness. If you want the buns stickier and gooey-er you can make more topping, although I do think you'll find this recipe gets it just right.
It's gonna be hard, but have patience – you need to wait till these buns are completely cooled to eat them. When they're ready, the ratio of soft, fluffy bun to the layer of gooey caramel goodness is spot-on delicious.
An observation, though, is that they're best the first day after being completely cooled. If you can't eat all of them the first day, microwave for 10-15 seconds for the best taste and texture. ATK gets my vote for best sticky buns!
This recipe is an investment in time, mainly because of the two rising hours. I enjoyed making these buns, though, and we're enjoying eating them even more.
Sticky Buns (America's Test Kitchen)
Total Time:
3 hours
30 minutes
An outstanding version of the standard sticky bun. Soft and tender with a chewy, gooey caramely topping.
Ingredients
Flour Paste:
2/3 C water
1/4 C (1 1/3 oz) bread flour
Dough:
2/3 C milk
1 large egg plus 1 egg yolk
2 3/4 C (15 1/8 oz) bread flour
2 tsp (1 packet) instant or rapid-rise yeast
3 tbsp granulated sugar
1 1/2 tsp salt
6 tbsp butter, softened (ATK recommends unsalted)
Topping:
6 tbsp butter, melted (ATK recommends unsalted)
1/2 C (3 1/2 oz) dark brown sugar
1/4 C (1 3/4 oz) granulated sugar
1/4 C dark corn syrup
1/4 tsp salt
2 tbsp water
1 C pecans, toasted and chopped (optional)
Filling
3/4 C packed (5 1/4 oz) dark brown sugar
1 tsp ground cinnamon
Instructions
For the flour paste: In a small bowl, whisk the water and flour together until smooth. Microwave in 25 second increments, whisking after each 25 seconds, until stiff, smooth, pudding-like consistency with a total of 50 to 75 seconds.
For the dough: In bowl of stand mixer with the whisk attachment, whisk flour paste and milk together until smooth. Add egg and yolk and whisk to combine. Fit stand mixer with dough hook , then add the flour and yeast. Mix on low speed until all of the flour is moistened, 1 to 2 minutes. Let stand for 15 minutes. Add sugar and salt and mix on medium-low speed for 5 minutes. Stop mixer and add butter. Continue to mix on medium-low for 5 minutes longer, scraping down the dough hook and sides of bowl when needed. Dough will be very sticky.
Lightly flour your counter or marble and scoop the dough on the surface. Knead briefly to form a ball and transfer, seam side down, to a lightly greased large bowl. Spray dough ball lightly with cooking spray and cover the bowl with plastic wrap. Let dough rise until just doubled in volume - 45 minutes to 1 hour.
For the topping: While the dough rises, grease 13x9" metal baking pan. Whisk the melted butter, brown sugar, granulated sugar, corn syrup, and salt together in medium bowl until smooth. Add the water and whisk carefully until smooth. Pour the mixture into the prepared pan and tilt the pan to cover it evenly. (Sprinkle with pecans, if using).
For the Filling: Combine sugar and cinnamon in small bowl and mix until thoroughly combined; set aside.
Turn out the risen dough onto a lightly floured surface. Press dough gently, but firmly to expel the air. Working from the center toward the edge, pat and stretch dough to form 18x15" rectangle, with the long end facing you. Sprinkle the sugar/cinnamon mixture evenly over the dough, leaving a 1" border along the top edge. Smooth the filling into an even layer with your hand, then gently press the filling into the dough to adhere.
Begin with the long edge near you and gently roll the dough into a loose cylinder, taking care not to roll too tightly (if too tightly rolled, the rolls with rise upward). Pinch the seam together to seal and roll the seam to the bottom.
Mark the cylinder into 12 equal portions (there should be twelve, 1 1/2" portions). To slice, get a 10 to 12 inch strand of unflavored dental floss, hold it taut, and slip it under the roll to the first mark. Cross the ends of floss over each other and pull, cutting the slice. Repeat with all slices.
Transfer the slices, cut sides down, into the prepared pan with the topping, spaced evenly. Cover the pan tightly with plastic wrap and let rise in a draft-free warm place until the buns are puffy and touching one another, 45 minutes to 1 hour.
While buns are rising, adjust the oven racks to lowest and lower-middle positions. Place a rimmed baking sheet on the lower rack to catch any drips. Preheat the oven to 375°.
Bake buns on upper rack until lightly golden brown, about 20 minutes. Carefully tent the pan with aluminum foil to avoid further browning and bake until center of dough registers at least 200°, 12-15 minutes longer. Remove from the oven, remove the foil and let buns cool in the pan on wire rack for 5 minutes. Lightly run a butter knife around the edges of the pan, then place a rimmed baking sheet over buns and carefully invert onto the sheet. Scoop up any glaze left in the baking pan onto buns. Let cool for at least 10 minutes longer before serving (best after completely cooled, though).
Notes
Tips and Stuff:
You'll notice the weights of the ingredients in the instructions.  I do weigh them to get the best results and highly recommend investing in an inexpensive kitchen scale.
You can refrigerate the slices in the pan (before the 2nd rising) overnight, for up to 14 hours, then bake them.  To bake, remove the pan from the refrigerator and let sit until buns are puffy and touching one another, 1 to 1 1/2 hours.  Then bake as usual.
Both of the rising times took the entire hour for me.  
ATK recommends unsalted butter, but I use salted.  It worked fine.
I didn't use pecans, but if you do be sure and toast them first (spread on a baking sheet, 350° for 5 or so minutes until you just smell the nuttiness).  It really makes a difference in the taste.
Nutrition Information:
Yield:

12
Serving Size:

1 roll
Amount Per Serving:
Calories:

407
Total Fat:

19g
Saturated Fat:

8g
Trans Fat:

0g
Unsaturated Fat:

10g
Cholesterol:

63mg
Sodium:

459mg
Carbohydrates:

53g
Fiber:

2g
Sugar:

20g
Protein:

7g
Nutrition Values are Approximate
The Avid Bakers Challenge this month is the Apple Cinnamon Pull Apart Bread from Brown-Eyed Baker's website. I knew I was going to love this one – first of all it's a yeast bread (yay) and has every component of a cinnamon roll. That you can pull off pieces of the bread with your fingers is another plus!
Oh, and don't forget the gooey carmely apple stuff that sinks to the bottom. The soft, pillowy yeast bread, chewy top, little chunks of apple and caramel cinnamon gooey stuff comes together and makes an amazing bread.
The photos don't do the bread justice. It was really hard to stop eating it, especially when you can peel off a little piece at a time. Pretty soon you've eaten five or six of those little pieces. They're kind of like sticky buns, but are pull-apart.
I followed Brown-Eyed Baker's instructions to manipulate the dough almost exactly and the it came out just like she said it would. A little sticky, but it rose beautifully. The dough did rest longer than specified so it would be easier to roll out and wouldn't spring back.
I'll definitely make this Apple Cinnamon Pull Apart Bread again…and again. It's quickly becoming one of my favorite breads!
Apple Cinnamon Pull Apart Bread
Rising/Resting Time:
2 hours
30 minutes
Amazing soft, pillowy yeast bread with a gooey apple cinnamon sauce on bottom. Really a great bread!
Ingredients
For The Dough
2 3/4 C plus 2 tablespoons all-purpose flour
1/4 C granulated sugar
2 1/4 tsp (1 envelope) active dry yeast
1/2 tsp salt
2 oz (about 4 tbsp) butter, diced small
1/3 C 2% milk
1/4 C water
2 eggs, room temperature
1 tsp vanilla extract
For the Filling
3/4 C granulated sugar
1/4 C brown sugar
2 tsp ground cinnamon
1 large apple, peeled, cored and small diced
2 oz (about 4 tbsp) butter, melted
dash of salt
Instructions
Prepare the dough: In a large mixing bowl, whisk together 2 cups of the flour, the sugar, yeast and salt. Set aside
In a small bowl, whisk together the eggs and set aside.
Place the milk and butter in a small microwave-safe bowl and heat for 30-40 seconds. Stir to make sure all of the butter is melted, then stir in the water and vanilla extract. Let mixture stand until it registers 115 to 125° (a little past lukewarm to the touch).
Pour the milk mixture into the dry ingredients and mix with a wooden or silicone spoon until combined. Add the eggs and stir the mixture until the eggs are incorporated into the batter. It will be sloggy, but keep stirring until completely combined - 2-3 minutes. Add 3/4 of the remaining flour and stir until fully incorporated, about 2 more minutes. The mixture will be slightly sticky.
Spray a medium-large metal bowl (or grease with butter). Loosely roll the dough into a ball shape and put into the bowl. Cover the bowl with plastic wrap and a clean kitchen towel. Place in a warm space and let rise for an hour to an hour and fifteen minutes, until the dough is almost doubled in size.
Prepare the filling: In a medium bowl, whisk together the sugar, brown sugar, cinnamon and dash of salt. Stir in the diced apple. Set aside.
Spray a 9x5" loaf pan.
Assemble the Bread: Deflate the risen dough and knead the remaining 2 tablespoons of flour into the dough (about 2 minutes). Cover the dough with a kitchen towel and let rest on the counter for 5 minutes.
Lightly flour your counter or work surface and use a rolling pin to roll out the dough into a 12 x 20-inch rectangle. Brush the melted butter evenly across the dough to the edges. Spread the apple/cinnamon/sugar mixture evenly all over the dough to the edges, including any thick juice that may have accumulated.
Slice the dough (pizza cutter is the easiest) into six equally-sized strips vertically and horizontally for a total of 36 squares/rectangles. It won't hurt if they're not perfect, just get close.
Create six stacks of six layers each. Place each stack into the prepared loaf pan with the cut edges up, arranging them however you want. Cover with a kitchen towel and place in a warm place for 35-45 minutes, until almost doubled in size.
Bake the Bread: Preheat the oven to 350°. Place a sheet pan on the lowest rack of the oven to catch any drippings which may overflow. Place the pan on the middle rack and bake for 40-50 minutes, until the top is very golden brown, turning the pan once after 20 minutes. An instant thermometer should read 195-200° so the insides will be done. If the top starts browning too much, tent aluminum foil over the top while it completes baking.
Remove from the oven and rest for 25-30 minutes on a rack. Run a butter knife around the edges of the pan to loosen the bread and turn it out onto a cutting board or serving plate. Serve warm or room temperature.
Wrap leftover bread in plastic wrap and keep it at room temperature for 2 to 3 days.
Notes
Tips and Stuff:
The original recipe used unsalted butter and whole milk.  I didn't.
The original recipe also used all granulated sugar in the filling, but I thought the brown sugar made the gooey stuff better.
If the dough springs back too much while you're trying to roll it out, cover it with a kitchen towel and let it rest on the counter for 5 to 10 more minutes.  It will roll out more easily.
Nutrition Information:
Yield:

10
Serving Size:

1 slice
Amount Per Serving:
Calories:

237
Total Fat:

7g
Saturated Fat:

3g
Trans Fat:

0g
Unsaturated Fat:

4g
Cholesterol:

38mg
Sodium:

246mg
Carbohydrates:

42g
Fiber:

2g
Sugar:

27g
Protein:

3g
Nutrition Values are Approximate