I've got a confession – I've never made coleslaw before.  I didn't even know if coleslaw was one word or two.  Apparently that's not very important when you make it, but is fundamental in writing about it.

This recipe originally came from ghettofoodie.com, but I can't trace it down to the original author as it's been so long since it was posted on Pinterest (you know how sometimes those links disappear).  The photo was divine and I love good coleslaw, so I thought I'd give it a shot.  Am I glad I did!  This is the best coleslaw I've ever had!  Although it has vinegar in it, it's more of a creamy and little bit sweet dressing with nice crunchy ingredients.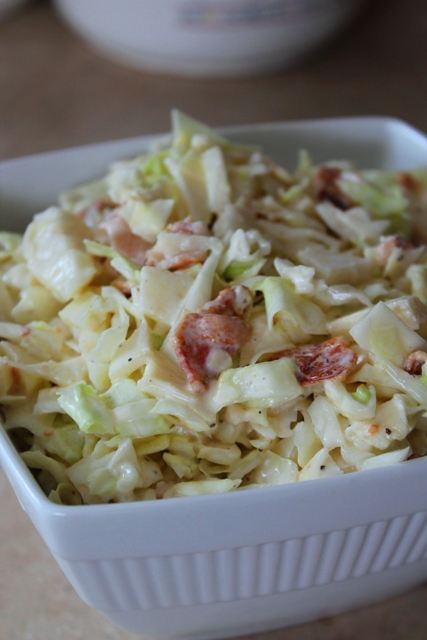 Here's my version of it, changed up quite a bit from the original. Just a warning – it makes a TON of slaw! Luckily Bret had made the Oven Roasted Rack of Pork (a do-not-miss recipe, by the way) and we shared it along with the slaw for dinner with some dear friends.  By now my friends know that what they're eating is probably a photographed, reviewed and new recipe for the site and will be honest with me about the taste.  It was a definite hit and a considerable portion of it was left at their house!

Apple Bacon Coleslaw
***1/2 Excellent example of a fine coleslaw. Originally from ghettofoodie.com, but changed up quite a bit. Crunchy, sweet, tangy and creamy - great dressing!
Ingredients
1/4

C.

cider vinegar

1 1/4

C.

mayonnaise

1/4

C.

honey

2

tsp.

kosher salt

1/4

C.

pulp-free orange juice

juice from 1/2 fresh lemon

1  

tsp.

black pepper

1

medium cabbage

cored and shredded

1/2

pack of bacon fried crispy then chopped up

4

medium Granny Smith apples

cored and diced
Instructions
While frying the bacon, in a medium bowl, stir the first seven ingredients together, blending until relatively smooth.  Prepare the cabbage and apples and scoop them into a large, and I mean large, bowl.  Pour the dressing over the cabbage/apple mixture and stir until thoroughly combined.  Cover with aluminum foil or lid and refrigerate overnight.
Recipe Notes
Tips and Stuff:
If you have a mandolin, use it on the cabbage and if you want, on the apples, too.
The original recipe had fennel and scallions, but I don't think it needs it at all.
If you don't have time to refrigerate overnight, 3-4 hours would be fine.  
You may want to hold back a fourth cup of crispy bacon to add just before serving, as the bacon does tend to soak in the juices and is not crispy after refrigeration.
Next time I will use a tablespoon or so of sugar instead of the honey.  It was great with the honey, but I think would be a bit better with sugar instead.