You may have noticed I've not posted very many recipes this month. I've tried a few new recipes that haven't quite turned out well – actually they've been disasters. It was partly true with this month's Cake Slice Bakers challenge – Chocolate Swirl Kugelhopf.
This Chocolate Kugelhopf wouldn't come out of the pan and ended up in pieces instead of a beautiful kugelhopf (traditional German brioche-like cake). This cake tasted so very, very good, though, that I just have to post it.
Bear with my photos. I cut the cake in strategic places to make half-decent pictures that hopefully show you part of the beautiful swirl of chocolate ganache through the tender, flavorful sweet bread. (And that "hole" on the upper right is full of creamy chocolate – yum.)
This kugelhopf recipe from Roger Pizey's World Class Cakes has one glaring ingredient problem. The main amount of flour is listed at 1 cup, when in fact it should be at least 1 3/4 cups, maybe even 2 cups.
After referring to another Cake Slice Baker's version and review, I added quite a bit more flour. It finally made a real dough instead of a sticky mess. The rest of the recipe appears to be correct because the bread turned out wonderful.
I want to include this second photo because I think this slice looks like a giant snail or swan (see the head up on the top left and the swirly body?). That's a stretch, but I also want you to see that pretty chocolate ganache which made the cake even that much better.
The chocolate seeped out of the cake a bit and made it stick to the pan, and that's where the knife came out to pry it out piece by piece.
Warmed up with a little butter and my favorite coffee? Couldn't have asked for a nicer breakfast cake. The flavor of this Chocolate Swirl Kugelhopf is tremendous. Even though mine turned out a mess (mostly my fault!), I highly recommend it. I will definitely make this again.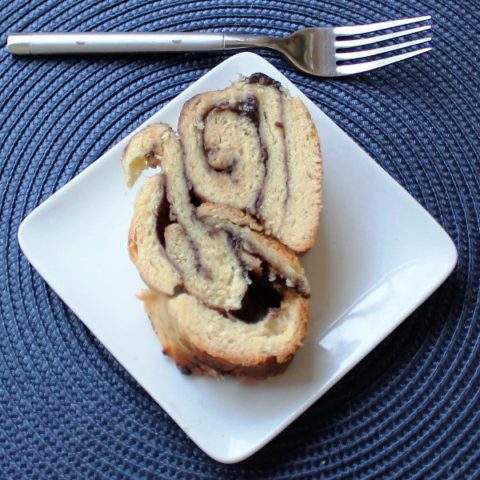 Chocolate Swirl Kugelhopf
Yield: 8 - 10

Prep Time: 30 minutes

Cook Time: 35 minutes

Inactive Time: 3 hours 30 minutes

Total Time: 4 hours 35 minutes

Brioche-like bread with a nice chocolate swirl.
Ingredients
Chocolate Ganache
6 1/2 oz semisweet chocolate (chips or finely chopped from a block)
1/2 C heavy cream
Bowl 1:
1/4 C all-purpose flour
1/3 oz rapid rise yeast
3/4 tsp sugar
1/3 C whole milk
Bowl 2:
4 tbsp butter
1/4 C sugar
1 egg and 2 additional egg yolks
Bowl 3
1 to 2 C flour, sifted
1/2 tsp salt
Optional:
1/4 C whole almonds
3 oz apricot (or any jam) glaze
Instructions
Grease a 6 1/2"x 3 1/2" kugelhopf (or regular bundt - that's what I used) pan very well.
Make the ganache: Put the chips or chopped chocolate into a bowl. Microwave the heavy cream for 1 to 1 1/2 minutes until hot. Pour milk over chocolate and stir until smooth. Cover with plastic wrap and set aside (Do NOT refrigerate.)
In bowl 1, combine all the ingredients, cover with plastic wrap and set in a warm place for 20 minutes.
Meanwhile, cream the butter and sugar for bowl 2 until light and fluffy and then slowly add the egg and yolks until fully combined, scraping down as needed.
Sift 1 3/4 C flour and salt into a separate mixer bowl and then add the "yeast starter" from bowl 1 and the creamed mixture from bowl 2. Use the dough hook of your mixer and mix until a soft dough forms. If too sticky, add another tablespoon or so of flour until soft dough forms. Mix for 10 minutes on medium.
Cover the dough bowl and place somewhere warm for an hour or until doubled in size. Then punch down the dough and turn out onto a lightly floured counter.
Using a rolling pin, roll out the dough into an approximately 16"x10" rectangle, about 1/4" thick. Place on a baking sheet and pop into the refrigerator for 30 minutes.
Remove from the refrigerator and gently and evenly spread the chocolate ganache over the dough to the edges (you may need to slightly stir the chocolate before spreading).
Starting at the top long edge, roll the dough as tightly as possible toward you into an even roll. Place the almonds (if using) in the deep ridges of the greased pan.
Place the dough piece, smooth side down and edge up, in the pan and gently join the ends together.
Cover the pan with plastic wrap and set in a warm place for about 1 1/2 hours until the dough is almost doubled in size. (The dough should spring back when gently prodded.)
Preheat the oven to 350°. Place the pan into the preheated oven and bake for 32-35 minutes, checking at 32 minutes. Top of the cake should be golden brown. Remove from the oven and let sit in the pan for about 10 minutes, then turn out onto a wire rack.
If you want your cake shiny, warm up the apricot glaze in the microwave and brush liberally over the top.
Notes
Tips and Stuff:

Read the entire recipe through before beginning and plan your bowls accordingly!

The original recipe used bread flour, but the all-purpose worked fine.

Make sure the dough ring is the same diameter all the way around the pan so it will rise evenly.
Nutrition Information:
Yield: 10 Serving Size: 1 serving
Amount Per Serving: Calories: 343Total Fat: 18gSaturated Fat: 10gTrans Fat: 0gUnsaturated Fat: 7gCholesterol: 82mgSodium: 189mgCarbohydrates: 41gFiber: 3gSugar: 17gProtein: 7g

Nutrition Values are Approximate