It's time for Christmas cookies!  These Dark Chocolate Sablés (Sah-bless) from Southern Living caught my eye earlier this year and I thought it would be a pretty cookie for the Christmas platters.  They had theirs sprinkled with sea salt, but I liked the look of the red, white and green nonpareils.
Sablés are classic French cookies and are usually delicate and crumbly and, to be honest, can sometimes end up rather dry.  These, though, ended up wonderfully, deeply chocolate and even though they're still shortbread textured, they're not dry at all.  The addition of the finely chopped bittersweet chocolate to the dough and the final dip in the same melted chocolate really added that extra level of goodness.
These cookies were easy to put together and the only delay was waiting for them to freeze for thirty minutes. I did discover a way to keep the cookies round. You know the way refrigerator cookies end up kind of oblong because when you refrigerate them the bottom of the dough flattens out? Well, if you take a paper towel tube (after the towels are gone of course…) and cut it length-wise, you can slip the rolled dough into it before refrigerating. It will keep the dough nice and round for perfect cookies!
I loved these little cookies and found that you could freeze the dough for up to a month before baking. They'll be a nice addition to the Christmas cookie plates!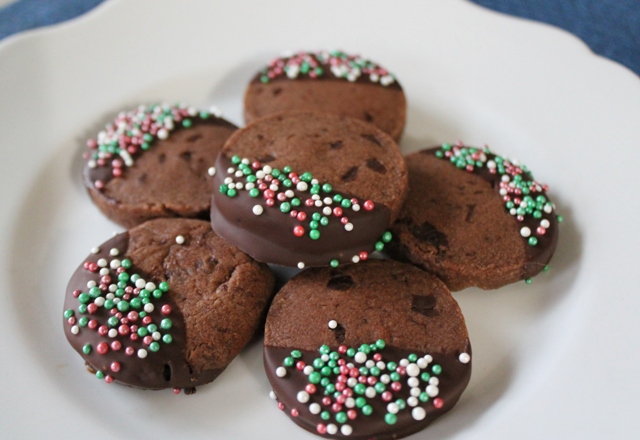 Dark Chocolate Sablés
****Terrific and very very chocolaty! Makes 4-5 dozen cookies
Ingredients
1

C

salted butter

, softened

1

C

powdered sugar

1

tsp

vanilla extract

2

C

all-purpose flour

1/3

C

unsweetened cocoa

1/2

scant tsp. kosher salt

2 1/2, 60

% cacao bittersweet chocolate baking bars

(they come in 4 oz. bars)

Decorations for the dipped cookies

(sea salt, nonpareils, etc.)
Instructions
Beat butter and sugar on medium speed until creamy. Add vanilla and beat until combined. Stir together flour, cocoa, and salt. Gradually add flour mixture to butter mixture, about a half-cup at a time and beat on low after each addition. Finely chop 1 of the 4 oz. chocolate baking bars and stir into the cookie dough until fully mixed in.

Divide dough in half and shape each into an 8-inch-long log. Wrap each log tightly in plastic wrap and freeze until firm – about 30 minutes.

Preheat oven to 350°. Cut dough into 1/4-inch thick slices and place about an inch apart on parchment paper-lined baking sheets. Keep remaining dough refrigerated while baking the batch. Bake for about 12 minutes, until slightly firm. Cool on pans for about 5 minutes and then remove cookies to a rack to completely cool.

Chop the remaining 1 1/2 chocolate baking bars and place in a small microwave-safe bowl. Microwave on high, stirring every 30 seconds until chocolate is melted and smooth (about 1 1/2 minutes total).

Dip half of each baked cookie into the melted chocolate and place on waxed paper. Decorate with sea salt, nonpareils or chopped pecans if desired. Chill in the refrigerator until the chocolate sets, about 20 minutes. To store, layer the cookies between waxed paper in an airtight container at room temperature for up to 5 days.
Recipe Notes
Tips and Stuff :  Be sure and use kosher salt for the cookie dough.  If you don't have any and are using table salt, you'll end up with a very salty cookie!  I ended up using my hands to mix the chopped chocolate into the cookie dough, as it was very thick and hard to stir with a spoon. Watch the melting chocolate carefully - if you microwave it too long, it will seize up.  If you're using sea salt for decoration, you may want to wait until the chocolate on the dipped cookie is firm.  I found that it melted right into the chocolate when applied to it while warm.