I've had this no-knead Crusty Bread recipe forever and finally decided to make it this weekend. It's interesting because the easy yeast dough is thrown together, then set aside on the counter for 12-18 hours. Glad I didn't want bread right away! You're also supposed to bake it in a 3.5 quart cast iron pot (or dutch oven). After I'd already made the sticky, sticky dough, I realized my dutch oven is 6.5 quarts (I love my dutch oven), so made other baking plans.
I ended up baking the bread in the aluminum bowl that the dough had risen in – and it worked!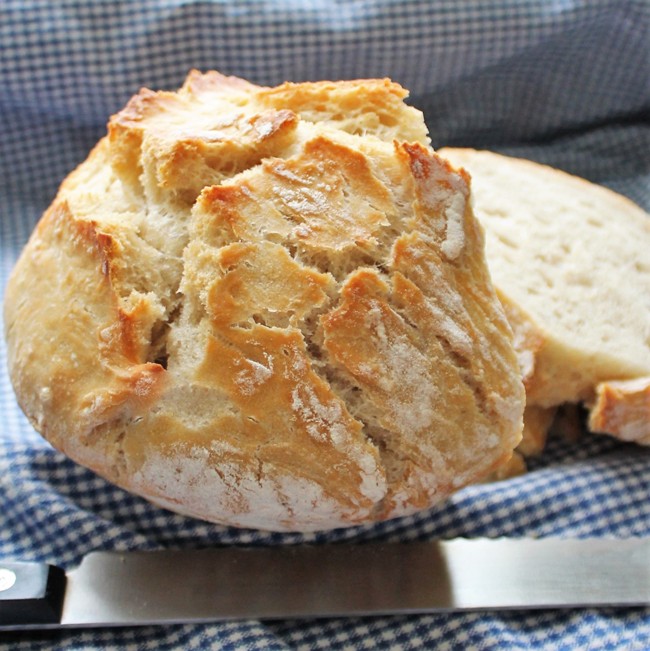 I preheated the bowl in the oven, then dumped the dough into it and followed the rest of the recipe fairly closely. The baking time was a little different since I was using a different vessel, but it rose nicely and made a crusty loaf with a sourdough-like texture (without the sourdough tang). It's a dense, but fluffy bread with a wonderfully chewy crust.
You can bake it in a small cast iron pot if you have one, but if you don't have one, just make it in a big ole aluminum bowl. Besides the time for the dough to set before baking, it's an easy, easy recipe and it makes a really delicious loaf of bread!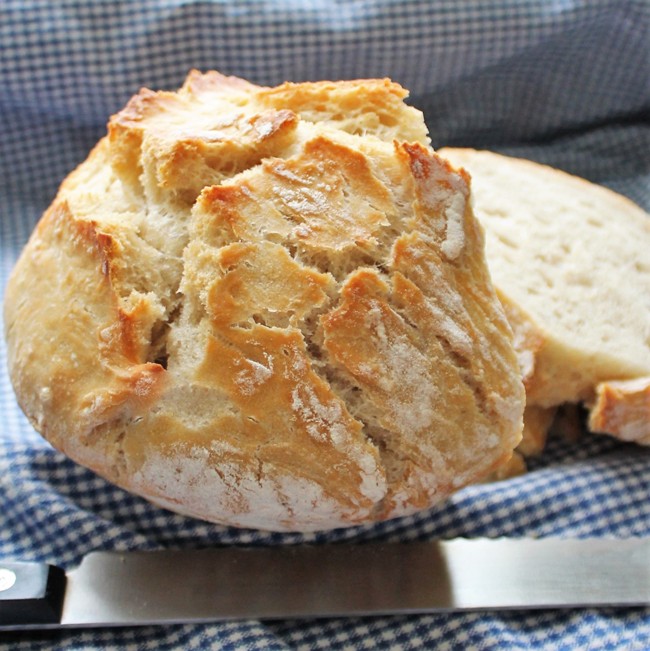 Crusty Bread (Baked in a Bowl!)
****My new go-to bread. Quick and easy (except for the overnight dough set) and very delicious! Adapted from JoCooks website.
Ingredients
3

C

all-purpose flour

1 3/4

tsp

salt

1/2

tsp

active dry yeast

1 1/2

to 1 3/4

C room temperature water
Instructions
Stir the flour, salt and yeast together in a big bowl. Pour the water into the flour mixture and stir until well combined. (If it seems a little dry, add the additional 1/4 cup of water - should be very sticky.)

Cover the bowl with plastic wrap and let it sit on the counter or in a cool oven for 12-16 hours.

Preheat the oven to 425°. Spray a large aluminum bowl with cooking spray and put in the oven on the lowest rack.

Flour your hands and sprinkle a couple of tablespoons of flour over the dough. Lift the dough out of the bowl and loosely form the dough into a ball, incorporating the flour (don't handle it too much - just enough to form the loose ball). Plop the sticky dough (and it will be sticky) into the heated aluminum bowl and carefully cover tightly with aluminum foil.

Bake covered for 30 minutes, then remove the aluminum foil and bake another 20 minutes until golden brown on top. Carefully remove the bread from the bowl (it should slide right out) and let cool on a rack at least 30 minutes before slicing.
Recipe Notes
Tips and Stuff:
You can add ingredients (like parmesan cheese, fruit, nuts, etc.) during the first step if you like.  I like it just the way it is!
Don't overwork the dough when stirring it all together or the bread will be tough.  Just make sure everything is incorporated completely.
It doesn't take an entire packet of yeast - just 1/2 tsp., so store the leftover yeast well-sealed in the refrigerator.